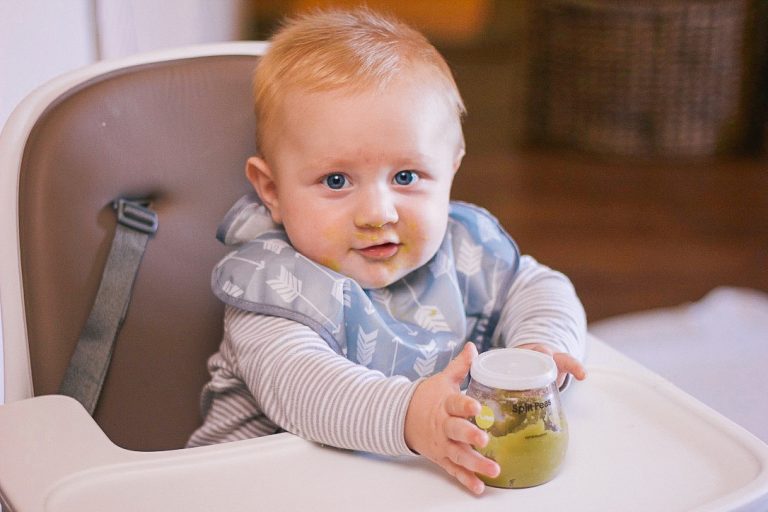 Six months was a big transition time for Wyatt – I weaned him off of nursing, introduced formula for the first time, and started to introduce solid (aka pureed) foods. I found the transition to solids to be surprisingly difficult for us at the time – but in retrospect, I was definitely overthinking it (sound familiar?). Here I'll share a recap of everything I learned, and of course, the best products for feeding to help ease the transition. 
Note: I have a separate blog post here on how we transitioned from breastmilk to formula. I recommend spacing the transition to formula and the transition to food out a little bit (a week or two), so you can isolate the issue if you encounter any challenges.
Getting Started
Per our pediatrician's recommendation, we started to introduce solid foods to Wyatt at 6 months. We gave him just a spoonful or two at mealtimes before he had his formula,  and introduced one new food at a time to ensure there wasn't an allergic reaction. We started off primarily with pureed or mashed fruits and veggies: avocado, bananas, butternut squash, sweet potatoes, peas, yogurt (check out Pinterest for some helpful infographics on what foods to introduce when – my board linked here). Don't be surprised if baby's reaction is not too enthusiastic – we could normally get Wyatt to sample just a few bites at a time. At this stage, you don't need to worry about ensuring baby is getting enough calories (from food) or eating a balanced meal – breastmilk/formula will take care of that. Hopefully that takes a bit of the stress out of the shift!
I (wrongly) assumed that we would wait to give Wyatt non-pureed food until after his teeth had come in, so he could chew and not choke on his food. At Wyatt's 9 month appointment, our pediatrician informed us that we shouldn't be waiting until his teeth came in – that could be a long wait! – and should start to feed him more solid foods cut up into very small bites. One of the key skills he need to grasp (pun intended) was the "pincer grab". With this advice, we started to feed Wyatt more of what we were eating in smaller, more manageable bites – like shredded pieces of chicken, slices of banana or strawberries, cubes of squash, small bites of sausage, or pieces of pasta. He pretty quickly became competent at feeding himself with his hands – silverware is another story (still learning)!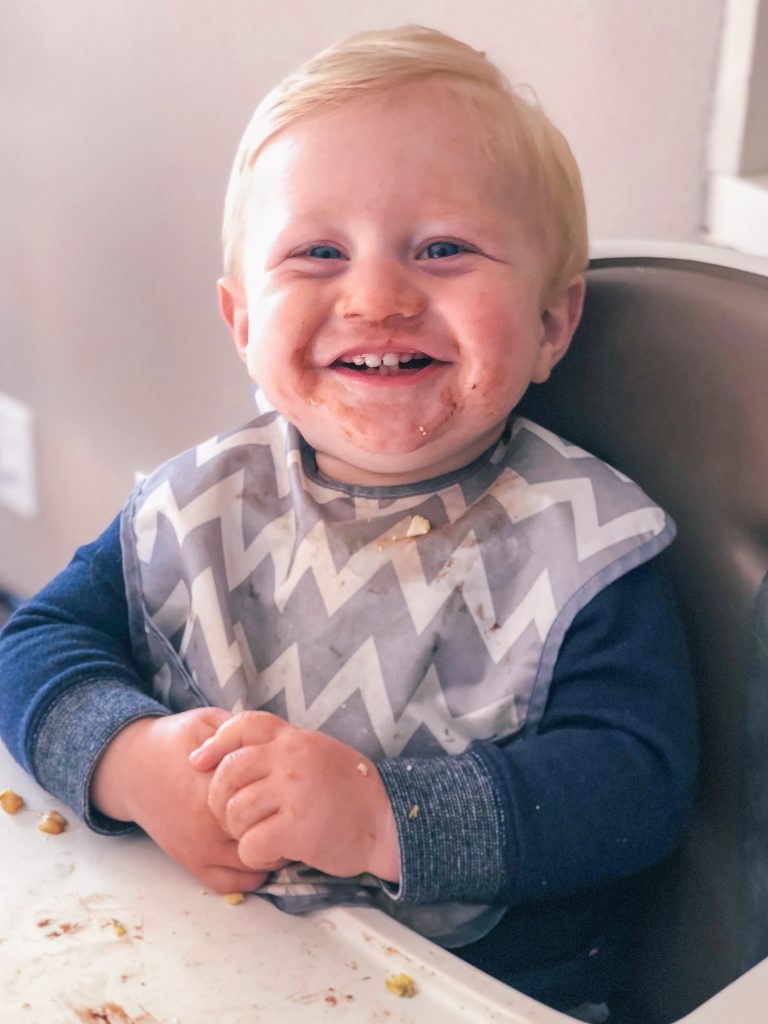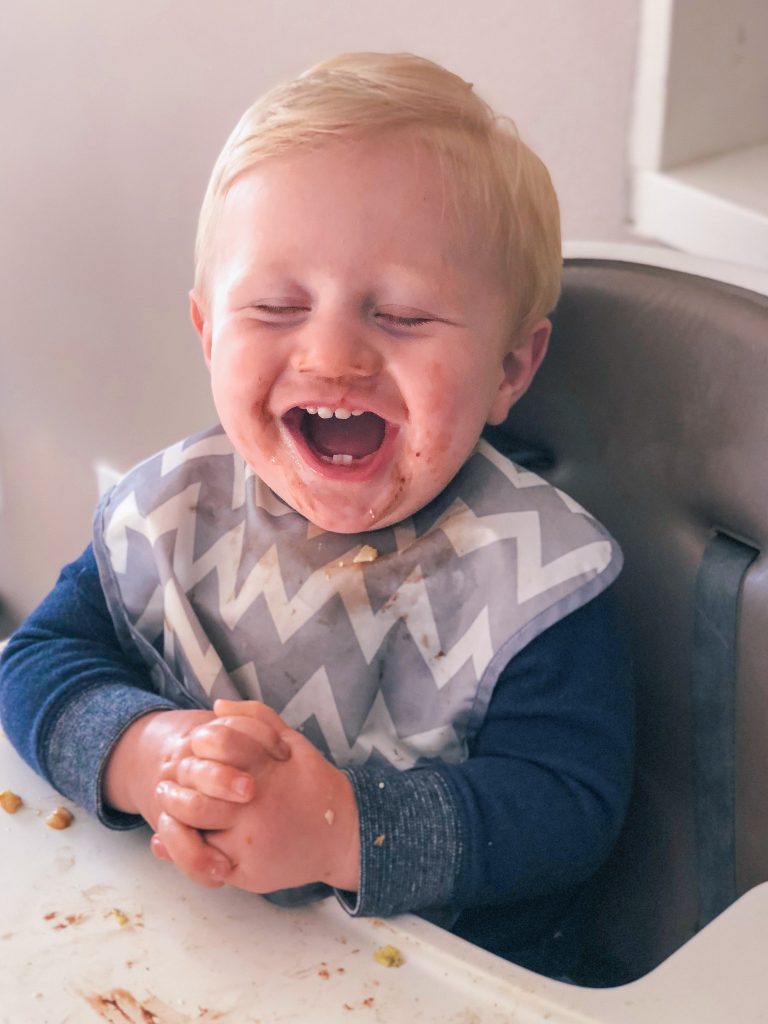 The best products for feeding
Making Baby Food
Food Processor: To make baby food, I initially purchased (but later returned) the Beaba Babycook. It sounds awesome, but I found the price point to be very high considering the functionality it offered was quite similar to other appliances I already have, like a Vitamix and a Breville Food Processor. As I discuss above, the period in which baby will be eating completely pureed foods is very short (~2-3 months) – therefore I do not feel a limited use appliance like this one is worth the cost.
Storage: To freeze and store pureed foods (oftentimes just leftovers from whatever we were having for dinner), I used these Baby Food Storage Trays. You can easily pop out a cube, microwave it or warm it up on the stovetop for a few seconds, and you're ready to serve. When my mom came to visit, she whipped up several trays of different veggies and fruits which were super helpful to have on hand and ready to go.
High Chair: Given we live in a small space and have an open plan kitchen/living/dining room, I wanted to find a high chair that wasn't too offensive to look at. If you're in the same boat, I think the OXO Tot Sprout High Chair is quite cute and comes in a range of different fabric color/wood options. It's easy to clean and has held up great over the last year. 
Travel High Chair: We always get asked about our Inglesina Fast Table Chair. While a restaurant high chair works well too, I find it's easier to contain the mess with this seat as it sits closer to the table. It's also easier to fit into smaller spaces, meaning you don't need an extra seat for baby at the table. If you're wondering whether to purchase the add-on serving tray, we did but I find we don't often use it. 
Bibs: There are a million choices out there, but my favorite are Bumkins Bibs, which hold up nicely, provide good coverage and come in lots of cute patterns. We have both the full-sleeve version and the regular bib varieties, and will swap out depending on how messy our meal is.
Silverware: With pureed foods, we used these Munchkin Soft-Tip Infant Spoons. As Wyatt has started to transition to feeding himself and eating more solid foods, we love this OXO Tot On-The-Go Fork/Spoon Set which comes with a convenient carrying case. I have this in my diaper bag at all times now!
Bowls/Plates: You probably want something that cannot easily be damaged if (when) baby throws it off their high chair. I initially picked out portion trays, but I now find that it's better for us to introduce one food at a time during meals (e.g., broccoli first, pasta second) so Wyatt doesn't play favorites and leave the greens behind. We like these Re-Play Bowls (all Re-Play products are made fro sturdy recycled materials) and the Avanchy Baby Suction Bowls. Note: most baby bowls are made of plastic or metal and should not be microwaved – we use a small basic ramekin to warm up most of Wyatt's food, then transfer it to his bowl or plate.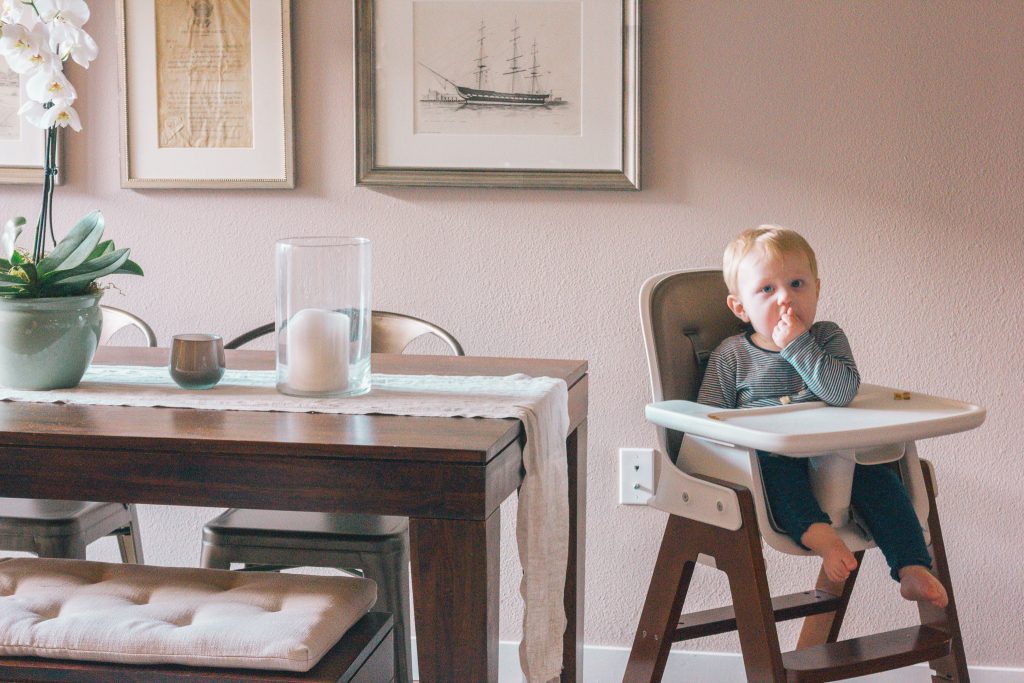 Drinkware
Sippy Cups: At around 9 months (when Wyatt started to consume more food and reduce his formula intake), we also introduced water and started to train Wyatt to drink from other cups aside from his bottle. Our favorites are the Munchkin Click Lock Weighted Flexi Straw Trainer Cup (take care to clean the straw thoroughly with the included cleaning pipe), and Re-play No-Spill Sippy Cups. We now also love the Munchkin Miracle 360 Trainer Cup, which is magically spillproof, but Wyatt didn't pick up on how to use this until around a year.
Bottle Weaning: Our pediatrician advised us to wean Wyatt off a bottle (he just loved his Comotomo) at a year, but we did not get around to doing this until closer to 15-16 months. I believe the rationale for weaning off the bottle is to protect baby's palate development, but generally you want to ensure your kid learns to drink from a straw or a regular cup (for life, you know). I definitely advise trying to wean off the bottle closer to a year, as it was quite difficult to make the transition later on and involved a few tearful mornings.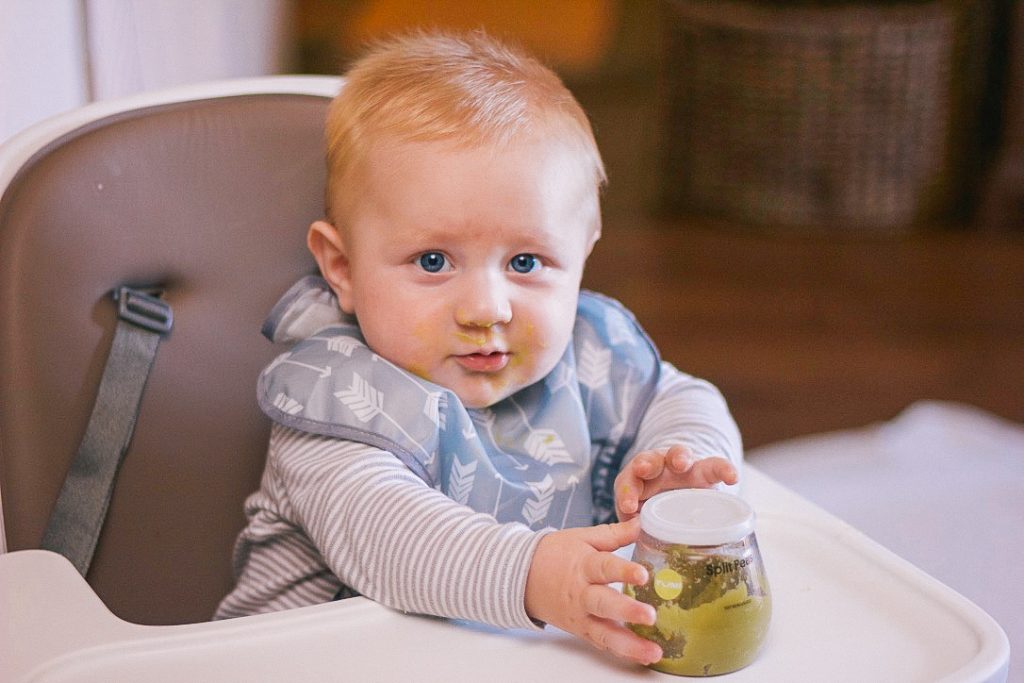 FAVORITE ON-THE-GO & PREPARED FOODS
We cook at home 4-5 nights a week, so we did prepare the majority of Wyatt's "meals" (purees) at first, but over time we found it handy to have more ready-to-go solutions on hand for quick meals or on-the-go feeding. In particular, we regularly used NurturMe Organic Infant Cereals (breakfast) and Plum Organics pouches (any meal), and I'd highly recommend both. I don't think there is any shame whatsoever in using high quality prepared foods – and the convenience can be huge for busy parents!
We also did a trial of Yumi prepared baby foods (are they following you on Instagram too, or do I have some kind of super-consumer tag on my account?), which I do recommend testing out. The first box is free, and I found the one-week supply actually extended for multiple weeks. I froze all of the containers and would defrost one a day to feed Wyatt over a couple meals. I found Yumi super helpful to introduce a broader range of new foods. If you want to try Yumi, the referral code ENJOYYUMI will get you for $35 off your first order.

ALLERGIES AND WHAT TO AVOID
Allergies: Our pediatrician also had us introduce eggs and peanut butter to Wyatt early on (around 6-7 months) so we could ensure he did not have an allergic reaction (bullet dodged – phew!). With the peanut butter, we mixed it in with yogurt so it was a smoother consistency he would not choke on (we had previously tested yogurt to confirm he did not have a dairy allergy). I would definitely check with your pediatrician on their recommended approach here before doing so!
Avoid: Our pediatrician also gave us a few guidelines about what not to feed baby prior to one year: honey, cow's milk, anything that could be choked on (crackers, chips, large pieces of meat). 
I hope this guide is helpful to you! As always, feel free to reach out to me (hello@chrissyanderson.com) if you have any questions and I will absolutely try to help!