Decorating Wyatt's nursery was one of my favorite projects ever – Tom may have called me "possessed" on a few occasions as my nesting instinct kicked into high gear. Not only did I want a relaxing, beautiful space for our baby, but I wanted it to be as functional as possible, and I didn't want to break the bank on pieces that he would quickly outgrow.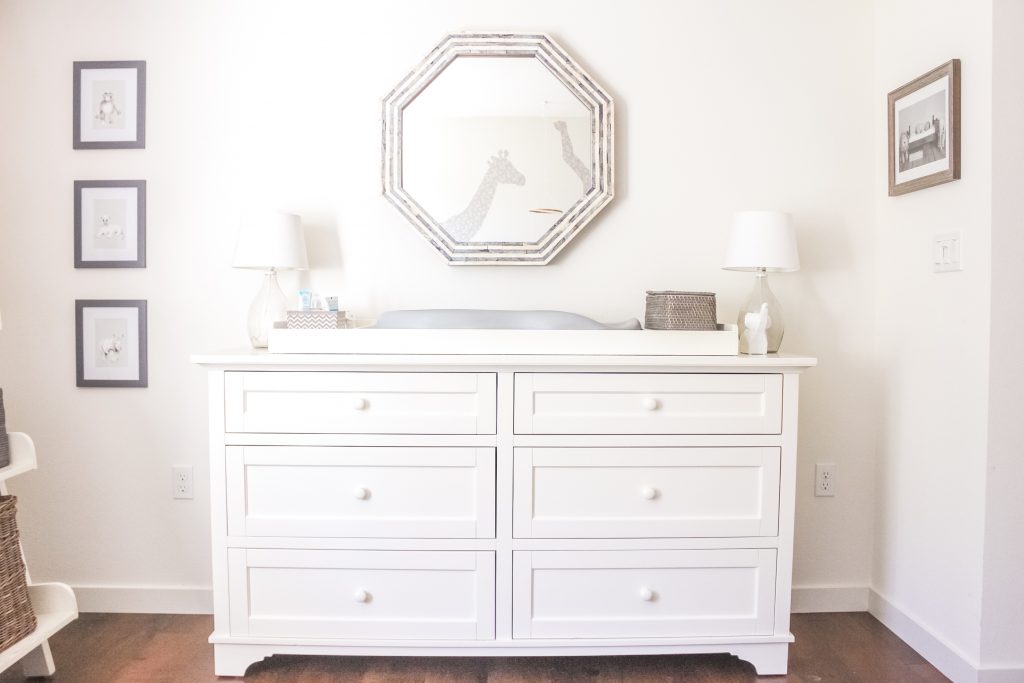 Furniture. When we moved from the city to Marin, I decided to repurpose our white Pottery Barn bedroom furniture (some of which I have had since college!) for the baby's nursery. I liked that it was gender neutral, and it was nice to start fresh with some new furniture in our bedroom (more on that later).
Dresser and changing table – We repurposed this dresser, the Pottery Barn Cynthia Extra-Wide (still available here). If you have the space for something similar, I find it's the perfect size to store all of Wyatt's clothing and a diapering essentials. We purchased the dresser during one of PB's periodic furniture sales (tip on PB: wait until they have a free shipping on furniture promotion – shipping costs really add up! I typically see this around major holidays, such as Labor Day). I separately purchased the changing table attachment to go on top. 
Mirror – I adore bone inlay and was thrilled to find this mirror from West Elm on clearance – it's still available and comes in several shapes and sizes (here and here).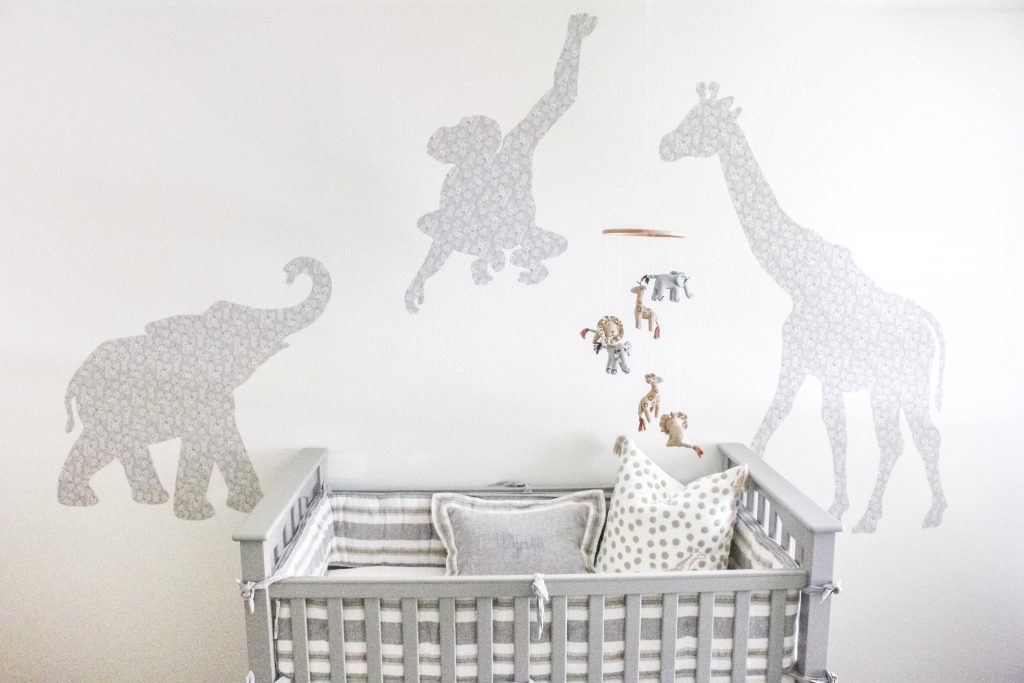 Crib – This is the Pottery Barn Kids Kendall Low-Profile Crib – very simple, classic design which is also convertible to a toddler bed (separate conversion kit required). I am 5'3" and liked the idea of having easy access to our little guy without too much back strain. We found this one on sale at the Pottery Barn Warehouse in Alameda for 1/3 the list price (I frequently see this model on sale online as well).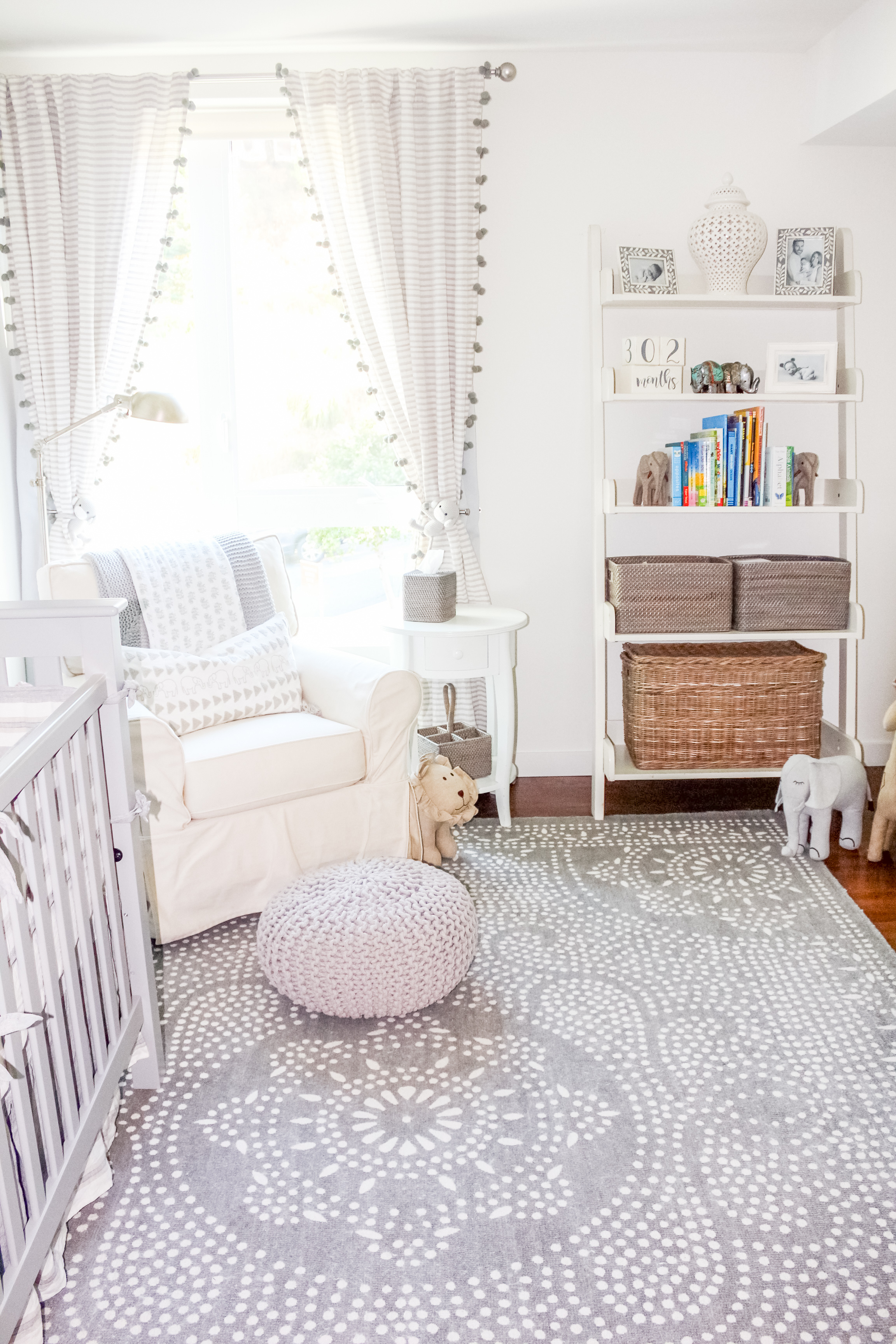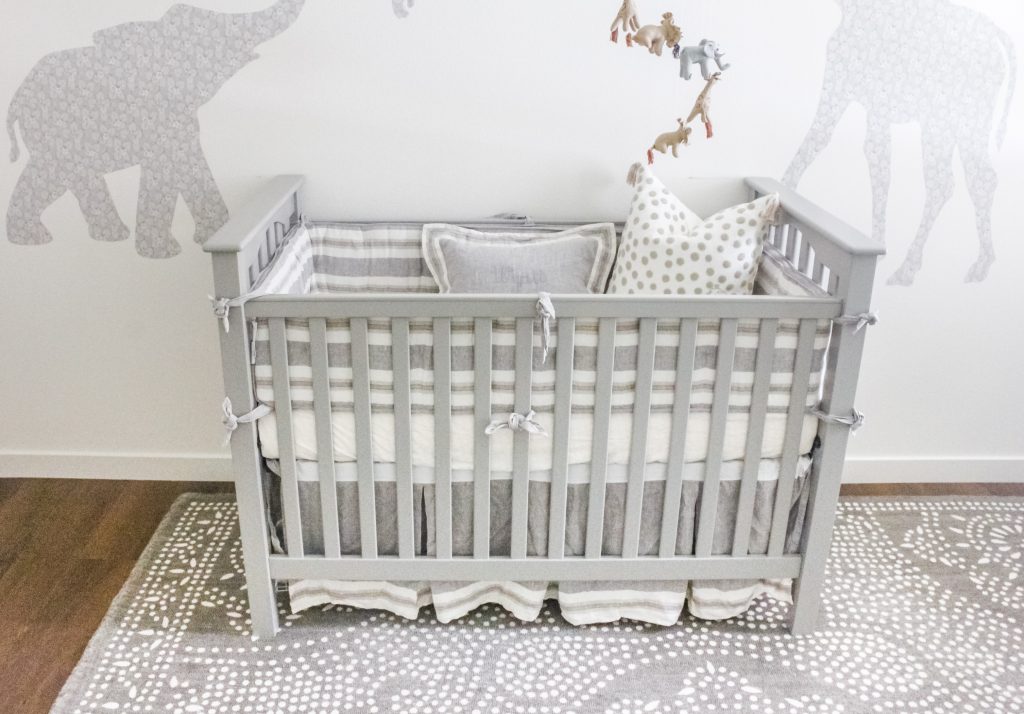 Bookshelf – I have had this leaning bookshelf from Pottery Barn for over ten years (the exact same model still for sale here). This can be screwed into the wall to secure it for child safety purposes, but I haven't tackled any of that yet. We're planning to use this primarily for books and toys (not much in either category yet, sorry baby!).
Side table – This was also a Craigslist buy that I think was nearly ten years old – but they still sell the exact same model here: Pottery Barn Julia Bedside Table. It could use a good paint job, but I haven't gotten there yet (pretty please, Tom?).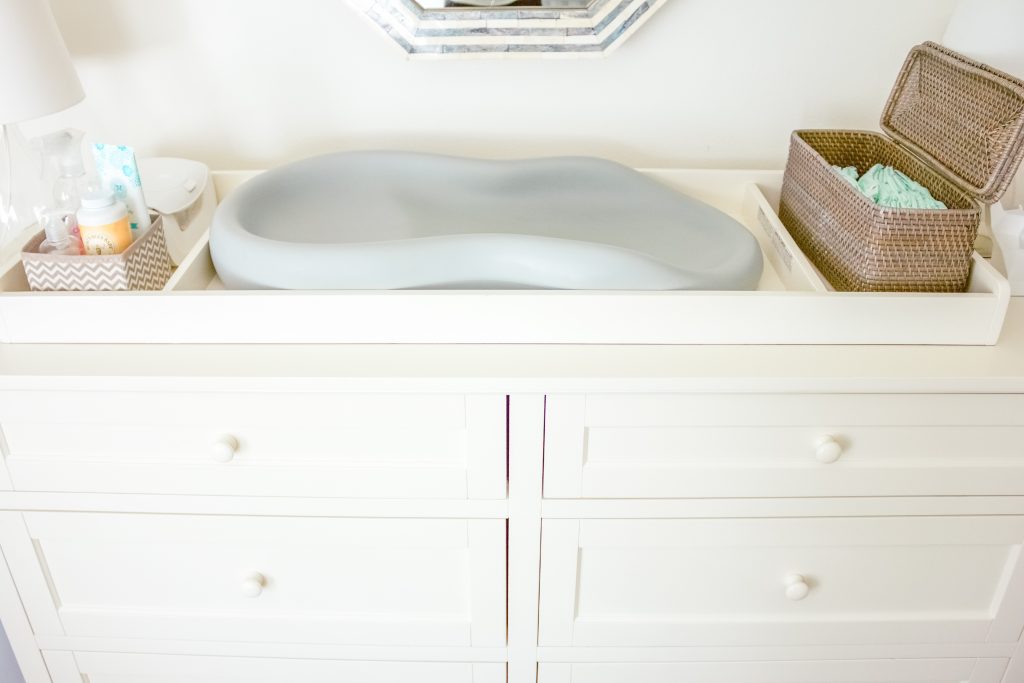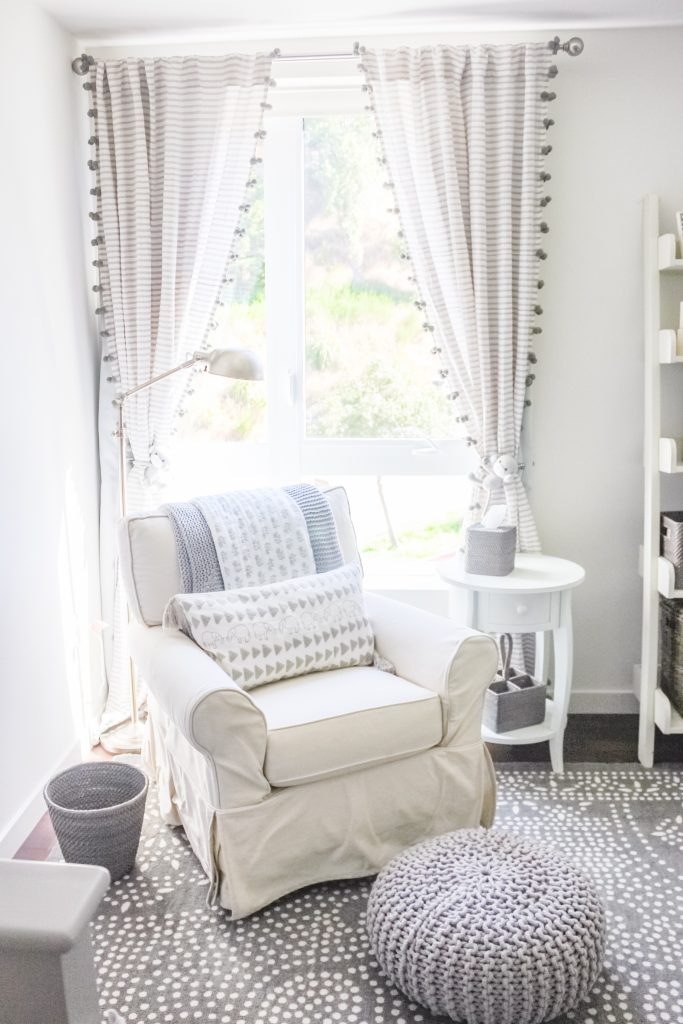 Rocking chair – Like many new moms, I had visions of lulling my little one to sleep every night white blissfully rocking away in a chair like this. Then I nearly fainted when I saw the price tags on these things! I was lucky enough that we found this PB Kids Comfort Swivel Rocker at the PB Warehouse for $500 (still pricey, but less than half of retail). There were some minor stains on the slipcover that I could easily address. I was also pleasantly surprised to see many folks re-selling their RH, Crate & Barrel and Pottery Barn versions on Craigslist.
Ottoman – I opted for a "pouf" instead of the traditional ottoman that matched our chair. I bought ours from RH Baby & Child (using our RH 25% member discount, and during one of their sale events when it was 20% off).
Curtains – I found these Anthropologie striped curtains, which come in multiple colors, and I think they are just so cute. I backed them with these blackout drape liners from Pottery Barn as they are very sheer. The curtain rods are also PB Kids, and added these cute monkey curtain tiebacks from Etsy (more on my favorite Etsy finds for baby coming soon).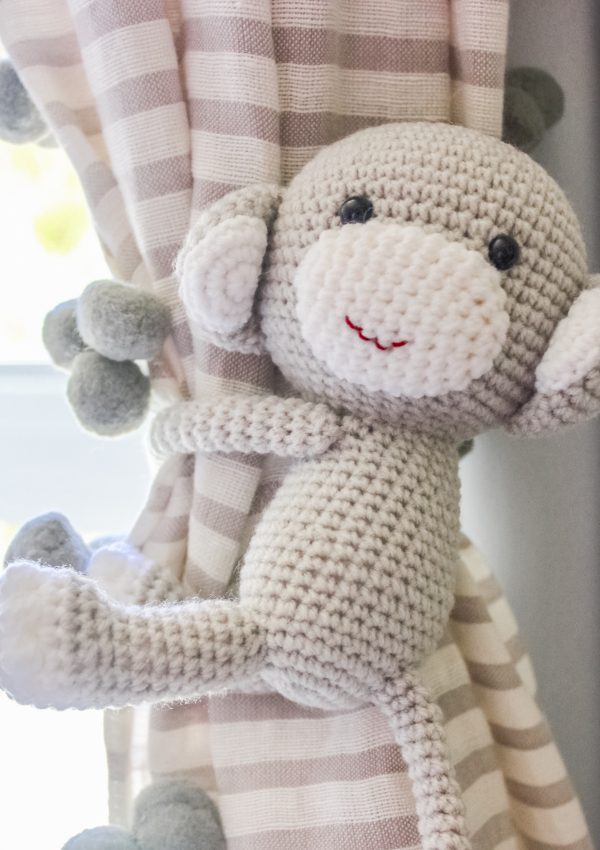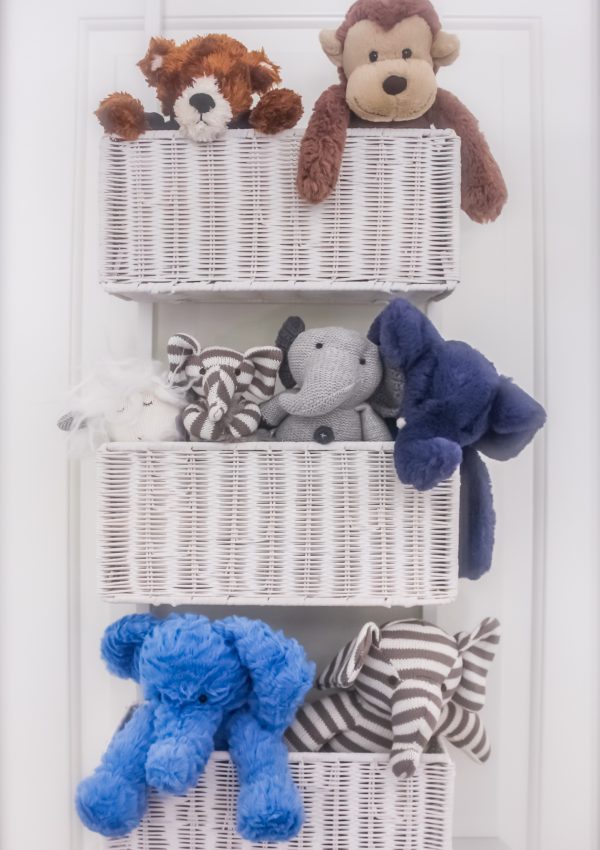 Decorations. There are so many fun options and themes for nurseries – check out my Pinterest board for more ideas! I have a minor obsession with elephants (Tom has put me on a temporary elephant probation), so it as an easy decision for me to go for a safari theme. My dad grew up collecting elephants while my grandfather, a university professor, was on sabbaticals abroad, so these were all over our house growing up. I still have a small collection of his in our apartment today.
The framed animal prints are all from Etsy (link here). I definitely went overboard on RH Baby & Child safari animal decorations (using the 25% member discount, and during their annual event sale for additional savings). The pouf, stuffed animals, mobile, and elephant kid chair are all from there.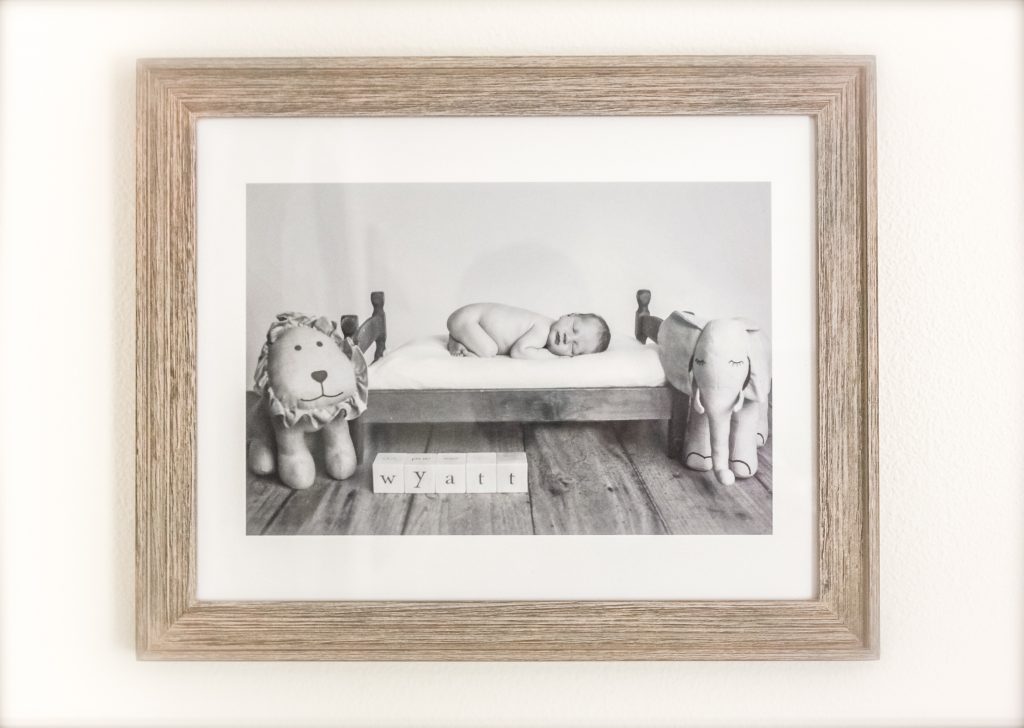 Storage –  All of the storage bins are from Crate & Barrel from their Sedona collection (here and here). They could easily be repurposed for an adult's bedroom or bathroom as well. We also love these Pottery Barn metallic woven bins for toy storage, and this back-of-door wicker bin for baby's growing stuffed animal collection. 
Wallpaper – this is definitely my very favorite part of the nursery, and was truly a labor of love (Tom may describe it rather differently…) Via Pinterest I found this amazing removable wallpaper company called Inke. They are based in the Netherlands and use vintage wallpapers to create these adorable animal shaped designs. There are lots of other theme options, I recommend checking them out! 
Stay tuned for an upcoming post on nursery organization! (Update: read the post here!)