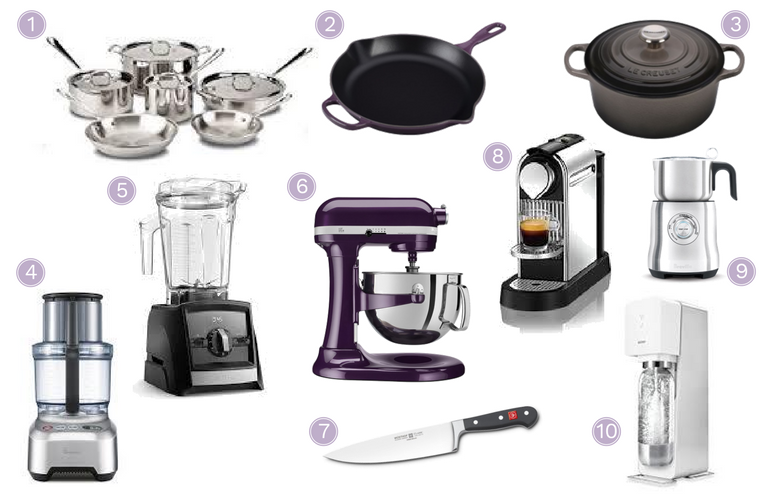 1 / 2 / 3 / 4 / 5 / 6 / 7 / 8 / 9 / 10
---
Hopefully you made it through all of my unsolicited advice on why you should register and where to register here: The Wedding Registry Guide. Now let's get to the fun part – what should I register for?
I had a serious amount of time to kill before our wedding, a few weeks after my business school graduation. With that said, you can trust these gifts are heavily researched! I spent hours (weeks?) putting together our registry selections, and equal time exchanging items to maximize every dollar for the best kitchen gadgetry out there. Two years later, these are the gifts we continue to use on a regular basis.
1) Cookware: I highly recommend using the wedding registry as an opportunity to upgrade your cookware. All Clad is easily the front-runner in this space, so it was easy to decide on this set: All-Clad Stainless Steel Tri-Ply Bonded Dishwasher Safe Cookware 1o-Piece Set. As compared to other sets, I find this one includes all of the essential pieces (and none of the fillers). We have been using ours for 2 years with absolutely no complaints, and I expect we have many more years to go!
2) Cast-iron skillet: In addition to stainless steel cookware, I think it's essential for every household to have a cast-iron skillet. This Le Creuset Enameled Cast-Iron 11 3/4″ Skillet is our go-to, and comes in all of their signature colors.
3) Dutch oven: Also in the Le Creuset family, I highly recommend a good dutch oven. I have the 5-Qt Oval, which I love, but if I could start over I would instead go for the Le Creuset Signature Enameled Cast-Iron 7 1/4 Quart Round French (Dutch) Oven. I mostly use mine for stovetop purposes (making soups), and I rarely make my own bread or roast a chicken in there, so I don't find the oval use cases are applicable to me, and a little extra room would be ideal. I would certainly love to have the 9 Qt, but it is really a beast and would not be worthwhile to use on a regular basis (unless you are feeding an army daily)!
4) Food processor: I am completely obsessed with the Breville Sous Chef and would highly recommend it to anyone. It makes so many kitchen tasks happen quickly that would normally take forever (e.g., shredding brussel sprouts or cheese, finely slicing shallots, making pesto). While I requested the larger 16-cup version, it also comes in a 12-cup size (for $100 less), and I think this would work just as well for most as it includes all of the attachments I frequently use.
5) Blender: The Vitamix is fantastic for Barry's-quality smoothies and one-touch soups. While I am thrilled to have it, I do have to admit that the price point is a bit outrageous! I am looking forward to using it more for crafting baby food for Baby A.
6) Stand mixer: A KitchenAid is an essential for any kitchen – as much for baking as to give you and your kitchen some culinary credibility. I went over the top and got the large professional one, the KitchenAid Professional 600 Series, but a basic version does most of the tasks you would need. In either case, be sure to measure your counter space to ensure this will fit (in particular height-wise below your cabinets). It is a bulky and heavy piece, so ideally you would like to have it accessible if possible. Also, let's be honest, it's partially decorative anyway!
7) Knives: Good knives are also essential and this is a great time to upgrade. I always highly recommend Wusthof knives – I received the deluxe set at cooking school at Le Cordon Bleu and have been using them for 5 years since. The challenge here is that there are many different sets available, and most will include many extra pieces that you do not need. America's Test Kitchen is always a great resource, and they provide a helpful review here on this point.
Given this, I recommend a "build-your-own" approach. I purchased my own chopping block with a finish I liked for our kitchen decor (I have this one), and add new pieces as you go.
This set includes all of these pieces, if you prefer to go that route. I also love these Wusthof steak knives, which coordinate perfectly with our silverware.
8) Nespresso: I've owned 3 Nespressos in the last decade, and I honestly can't tell much difference between any of the models (though believe me, I spent hours belaboring the decision before purchasing each!). When my last one kicked the bed (the Nespresso U, which I am fairly certain has been discontinued), I considered the 3 smaller format models (so it's not overtaking my countertop) as replacements: Citiz, Pixie, and Inissia. Based on several product reviews (this one was the most helpful), it became clear that this was primarily a cosmetic choice, as the functionality of each machine is very, very similar. The only key functional difference I could find was the size of the water tanks: 34 fl oz for the Citiz vs. 24 fl oz for the Pixie and Inissia.  I opted for the Citiz, as I prefer the stainless steel (vs. plastic) exterior, and the larger size water tank was appealing as I often grab and go on my way out the door in the morning and don't have time to refill. A more detailed review that I found helpful is linked here.
9) Milk frother: I highly recommend purchasing a model with the milk frother and coffee maker detached. Nespressos do have a shelf life (mine have each lasted about 2 years before sadly dying), but I've managed to hang onto the same milk frother, the Nespresso Aeroccino Plus Milk Frother, throughout. I recently passed this on to my mom and opted for the Breville Milk Cafe Frother after falling in love with it at my friend Maria's. This machine is superior to the Nespresso Aeroccino for 3 reasons: 1) it works well with soy and nut milks – they turn out creamy and delicious (vs. limp and watery in the Nespresso) and 2) it's a larger size so you can froth for more than one person at a time and 3) you have multiple frothing options and whisks (froth, foam, choose temperature).
10) Sodastream: If you enjoy sparkling water, this is a very handy tool to have at home – we use ours nearly every day. This basic model, the Sodastream Source, seems to be the best bet – I do not see any reason to pay for a more premium model here.
References:
For a more comprehensive look at all the goodies you should register for (kitchen and beyond), I liked the wedding registry checklist that TheEverygirl provides here.