So you've got an Instant Pot, and now you're wondering what the heck to do with it? Or maybe you're still wondering if this so-called magical device will transform your life? I was in the same boat just a few short months ago, until my mom, a superb chef and former caterer, convinced me to take the plunge. A few months later, we've dispensed with our old slow cooker and rice maker and I'm now a complete convert. 
I am admittedly a kitchen gadget collector (my favorites are linked here for reference), but I was definitely skeptical of the myriad claims made about the Instant Pot, and resisted buying it for several years after the craze began. When I finally caved and welcomed the Instant Pot into our home, I realized that that many people simply cannot be wrong about something (similar to Harry Potter, ya know?).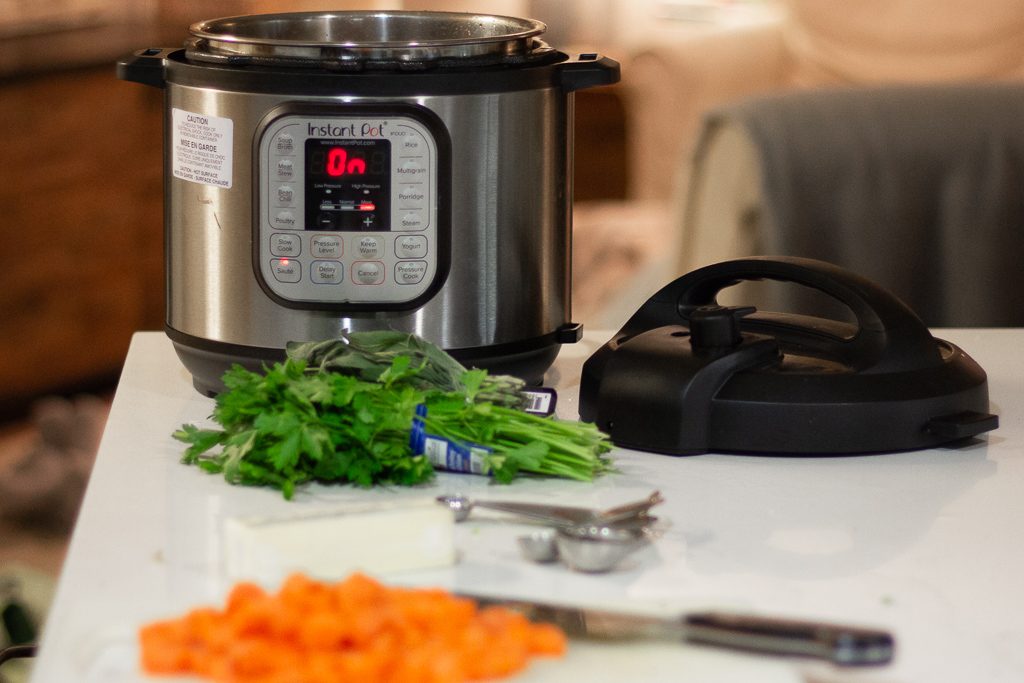 WHY YOU SHOULD HAVE AN INSTANT POT
What is so special about this device? A few things, in my view:
Rice Maker

: With the push of a few buttons, you can make starches (absolutely any kind of rice, oatmeal, polenta, farro…) perfectly cooked, with no stirring, boiling over, or burning on the bottom of your pans. Every. Single. Time. We used to use a bulky, expensive Japanese rice maker, and I promptly sold it on eBay when I saw what the Instant Pot was capable of.

Pressure Cooker

: Again, with just a few button taps, you can make perfectly cooked, fall-off-the-bone meats or vegetables in a fraction of the time they would normally take in the stovetop, oven or a slow cooker. This recipe is a great example of that –  Coq au Vin would normally take hours to prepare, with a lot of time spent at the stove to give it the required TLC. Similarly, last night we pressured cooked a spaghetti squash in 15 minutes (this would take 45 min to an hour to roast in the oven), paired it with a pesto sauce and had a delicious meal. I could go on and on, but instead I'll show you by posting our favorites! Important disclosure: the Instant Pot takes time to pressurize, so you'll want to add an additional 10-15 minutes of prep time to your meal planning when using this function.

Easy Cleanup

: While I love home-cooked meals, I detest kitchen cleanup. So far, I have found that the majority of our Instant Pot meals require dirtying just a few cutting boards to chop our ingredients, and a quick rinse of the Instant Pot itself after cooking. This compared to scrubbing, soaking and scouring our other pots – no contest! 
OK, I'm sold. Which Instant Pot should I buy?
I spent a LOT of time belaboring this question, and there isn't a one-size-fits-all answer. With that said, for the vast majority of people I would recommend sticking with the basic Instant Pot DUO60 6-Qt 7-in-1. Conveniently, this is also the model that tends to go on sale most frequently – we purchased ours during Amazon Prime Day this year for $59.99, and it was on sale for the same price at Black Friday. If you have a large family, entertain large groups, and have a lot of storage space, you may want to consider the 8-quart model (currently on sale) instead, but I find the 6-quart is just right for our family of four who entertains groups of 6-8 people on occasion. I thought this Epicurious article, "This Instant Pot Buying Guide Will Explain Everything" did a great job of breaking down the differences between models, and I do not feel that most (including myself) would take advantage of the upgrade features and customization options available in the Lux, Ultra, and Max models.
So, what should I make in my instant pot?
This is decidedly not a food blog (I cannot explain how challenged I am at making delicious food appear appetizing in photos taken at night in low lighting!), but in the spirit of sharing helpful information, I wanted to start a little series of easy weeknight recipes that we love and I think you will, too. 
Tom and I cook at home almost every night, and we are always on the hunt for quick, tasty, healthy(-ish) meals – bonus points if they are also kid-friendly! While I have some professional culinary training, rest assured that nothing we make requires more than the ability to chop, sauté or roast. The first installment is this recipe for Instant Pot Coq Au Vin & Herbed Mashed Potatoes – I hope you enjoy! 
I'll be posting more tried-and-true recipes soon, but in the meantime, check out these recent favorites: