Over Christmas, Tom and I took both boys on a two-week adventure to the East Coast to visit family and friends, including stops in Durham, Miami and Palm Beach. Because it was our first time traveling with two – and traveling to two different climates to boot! – we spent a lot of time in preparation. We traveled extensively with Wyatt in his first two years (I previously posted about that experience here) – but travel with two was a whole new ball game! I know travel with kids can be extremely stressful, so I wanted to share our best practices and lessons learned (sigh) in case they are helpful to you all!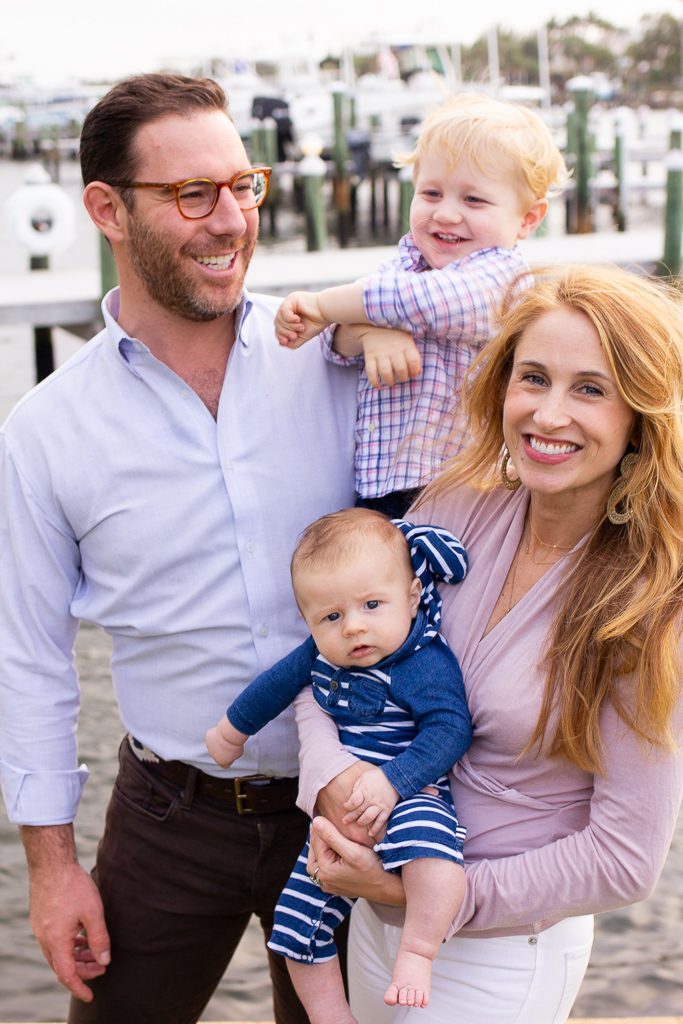 Preparing for Travel
Consider booking a seat for your child under two for long-distance flights. While kids fly for free under two years old, we have booked Wyatt his own seat since about 6 months for any long-distance (3 hours+) flight. Though he's particularly large for his age, I think this is worth considering if the cost is not prohibitive, especially if it's a long flight and you're hoping to get any rest. Now at 33 lbs and 21 months, Wyatt is a bit large for a lap infant, and having his own seat (+ his travel car seat) is very helpful to get him comfortable and keep him safe in-flight.
For long distance flights, consider red eyes or flying during naptime. For cross-country flights, we often choose red eyes. If you're someone who would never have taken a red eye pre-kids, this probably isn't the time to test it out. For cross-country or international travel, I find it's much more efficient to suck it up and take the red-eye (keep in mind we are traveling west to east most often, so this might not apply for you!). This generally works out with our kids' timetables so they get some rest and adjust more quickly to the new time zone.
Confirm your seat assignments in advance. Most airlines will allow you to choose seats in advance at no cost when traveling with children, so you can sit together as a family. If you are traveling with a car seat, make sure you mention this to the reservation agent, as car seats cannot be seated in particular locations on the airplane (e.g., in the exit row or the rows in front of/behind the exit row). We had a rather unpleasant experience being relocated to the back of the plane when we found this out on our last flight!
Make sure a lap infant is added to your reservation and confirm if any identification/proof of age is required for children. I've found that most airlines do not require any identification for children traveling domestically with their parents, but in one case (Southwest), I was required to show "proof of age" (a social security card or birth certificate) and nearly missed a flight before we found a screenshot on our phones. Note that you will normally have to check in at the airport with an agent (mobile or kiosk check-in won't work) if you are traveling with a lap infant – another reason to ensure you are there EARLY!!! – so plan to have some extra time in case you need to wait in line to do so.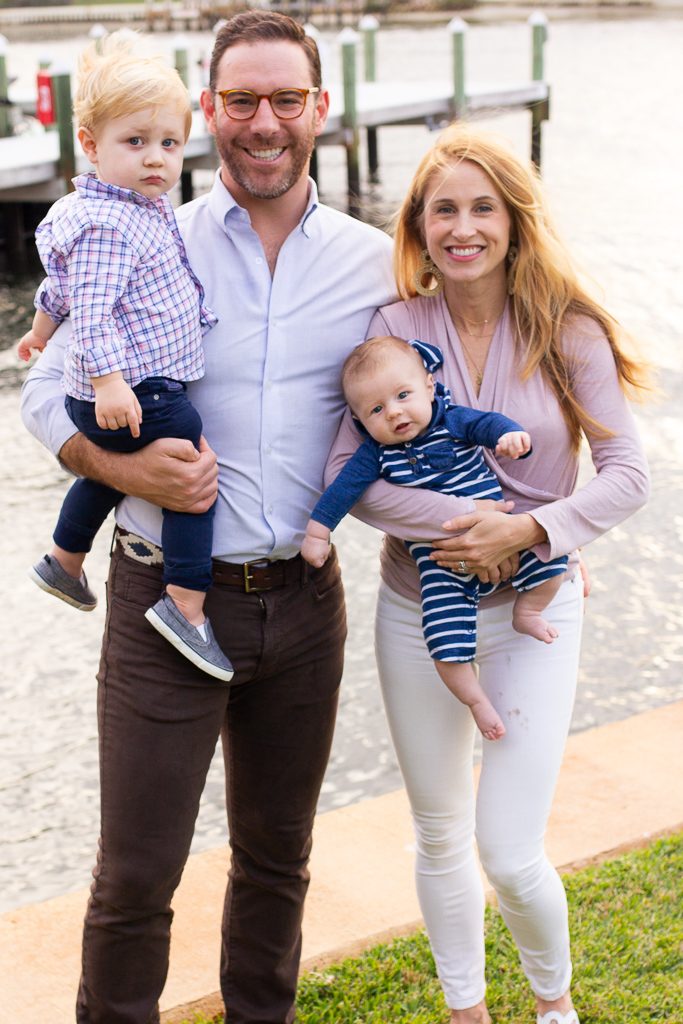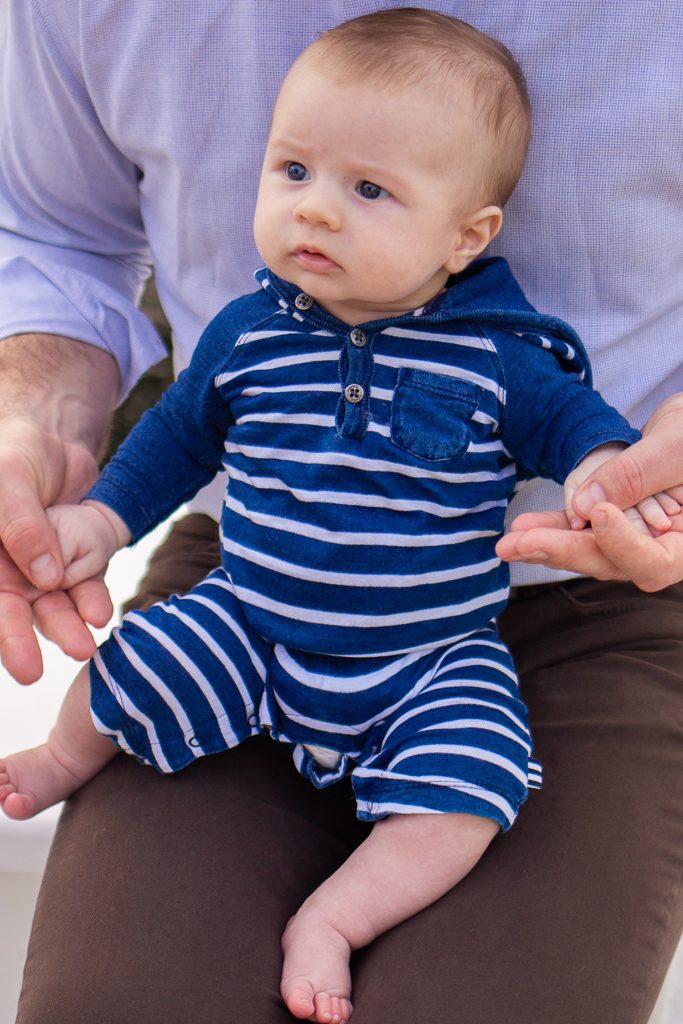 Edit, edit, edit what you pack. I have separate post with our full packing list for travel with kids (link here), where I've also shared our favorite products for travel. We no longer live in a world where we can throw things in a bag willy nilly and have a options to choose from on arrival. We actually plan out outfits we can wear and ways to re-wear the same items (e.g., jeans/pants) multiple times to minimize what we pack. We use packing cubes for absolutely everything so we can stay organized with all four of our clothing commingled in the same bags. For any trip longer than a weekend, we always plan to do laundry at some point during our trip so we can minimize the amount of stuff we carry, and we bring a mesh laundry bag to help stay organized during our trip.
Consider BYO car seat and travel crib. We typically bring both our own car seats and travel crib as I prefer not to pay the extra $50-100 per day to rent these items. Most of the time I'd prefer the slightly painful experience of lugging these items through an airport to avoid that cost (and save it for a babysitter so we can go out!), but you may feel differently. These items can generally be checked and/or gate-checked for free. As I mentioned above, we also like to have a car seat for Wyatt to sit in on the plane and get comfortable, and we find that he adjusts better to sleeping in a familiar bed. For the week prior to long trips, we have had him sleep overnight or nap in his travel crib to help with the adjustment. 
Check bags to lighten the load and beware of overweight fees! Once upon a time, I refused to check a bag for any length trip. Nowadays, I find checking is essential to enable us to navigate the airport (somewhat) sanely. BEWARE of overweight bags (typically anything >50 lbs)! From a cost perspective, it's often better to bring two suitcases at $25-30/bag than to pay an overweight bag fee, which is in addition to any baggage fee and can be up to $75-100/bag. Keep this in mind when shopping for checked bags – many oversized bags are very heavy (+20 lbs) when completely empty, so you are almost guaranteed to go over the weight limit if you fill them. This Tumi wheeled duffel is an exception and our favorite – huge capacity (90 litres), very durable and just 11 lbs. One strategy to weigh your bag at home: weigh yourself while holding the suitcase, then deduct your weight to get a rough estimate.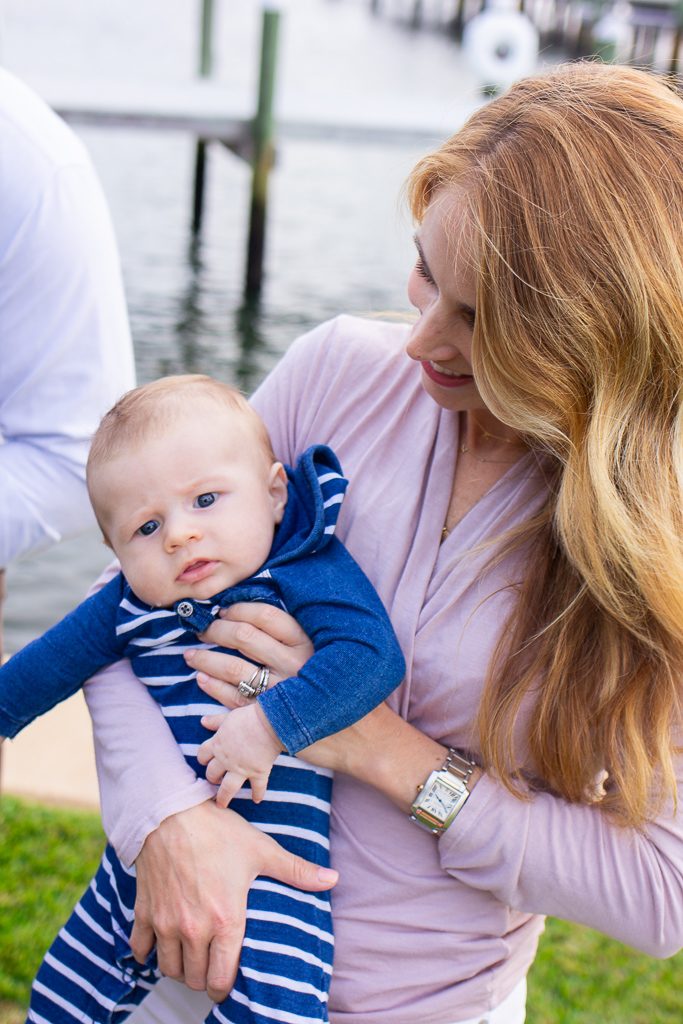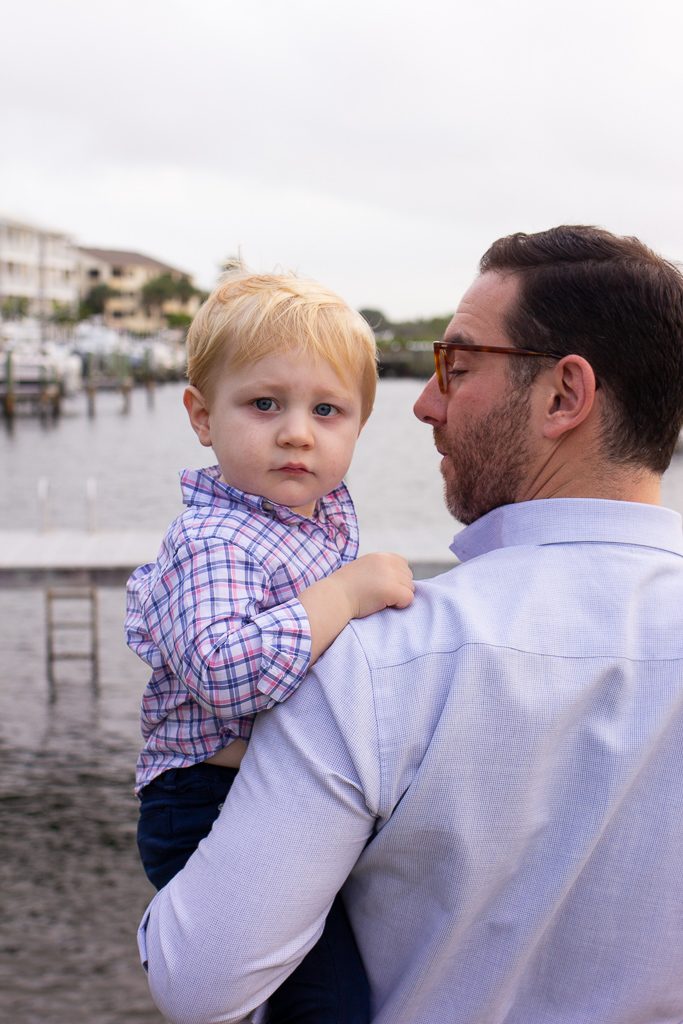 Day of Travel/at the Airport
Adjust your expectations. This is going to be challenging. It's fairly likely there is going to be a crisis or two during the process. Do not expect to get any rest, read a book, watch a movie, or do work. If you happen to luck out and any one of those things is possible, consider it a MIRACLE! Try to have a sense of humor and have a laugh at how absurd this whole process is! 

Be sure to bring snacks with you! My packing list includes a comprehensive list of what I recommend including in your carry-on, but I think it's worth mentioning here that you should come to the airport with snacks on hand, in case you run into the unfortunate scenario where you get hung up on some earlier step in the process and end up not having time to stop in the airport. Also note that most airlines do not have milk on board, and I often find it difficult to find in the airport as well (particularly whole milk).  We often bring toddler formula with us as a backup for long flights. Bringing your own snacks (pouches, crackers, fruit, cheese…) is also essential for young toddlers, as most of the options available for purchase on board could be a choking hazard.
Know the TSA guidelines if you're planning to travel with breastmilk. If you're traveling with breastmilk, read the TSA guidelines here. If I'm planning to transport breastmilk, I bring along our (overpriced, but extremely reliable!) Yeti Hopper 8 Cooler to ensure leakproof transfers. I have found that TSA agents are sometimes poorly informed about the rules and will ask to open your breastmilk, or say that ice packs are not permitted. This does not align with their printed guidelines (in both cases, you can refuse and have additional screening conducted to get clearance). It might even be worth bringing a printed copy or screenshot of this site. 
Get to the airport very EARLY!!! You may need extra time to change diapers, park a car, deconstruct your stroller and get it ready for gate check, let your toddler jog off some energy pre-flight, install a car seat on the plane, etc. Most airlines will allow families with children to board first, and believe me, you want that extra time! Most of our recent cross-country flights starting boarding almost an hour before takeoff (!!!), and we were not there early enough to take advantage of pre-boarding (sad face). I usually target to get to the airport at least 1 hour and 45 min prior to scheduled takeoff, and still find that we are barely ready to board at the time they call for families. My pre-kids self is mocking me right now…
Mentally prepare for getting through security. If you have TSA precheck, your kids will be able to go through with you (if you don't, get on that stat). (Note: if you have Global Entry, your kids will not be able to go through with you on re-entry. You will be stuck in the regular lanes if they are not also registered – yuck!). You'll need to deconstruct your stroller/car seats and send them through the security scan. If any item does not fit in the scanner, they will take it aside to inspect it manually, which can take some extra time (yet another reason to get there early!!!). This process is generally very challenging while also juggling multiple kids, with a line of people behind you, so Tom and I find it's helpful to talk through who is doing what beforehand.  Don't be afraid to ask for help – in most cases I find folks are more than willing to lend a hand.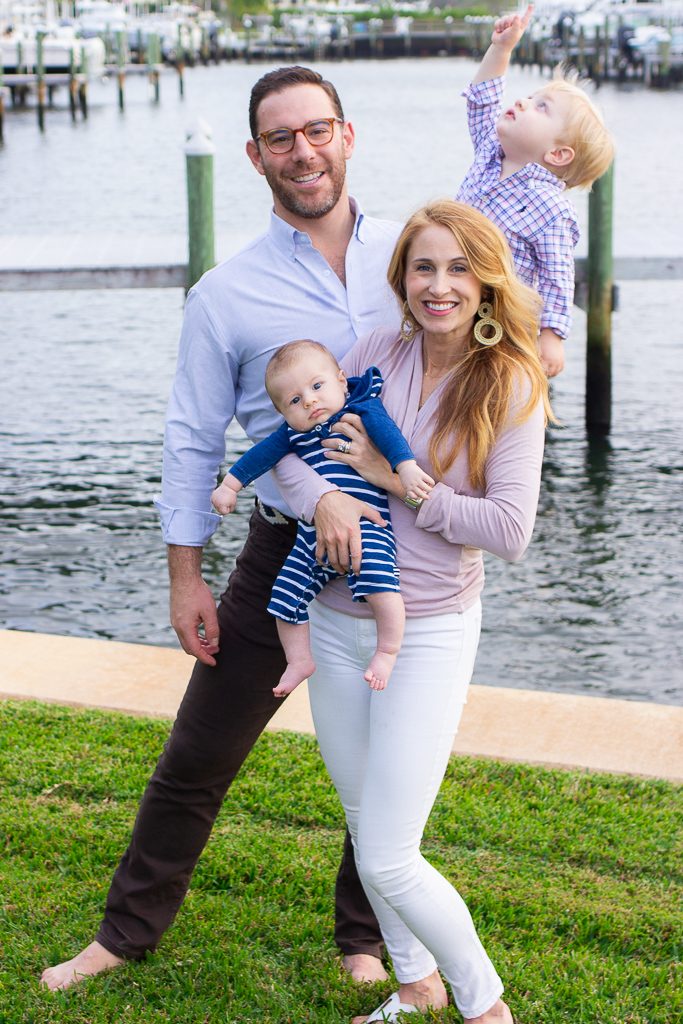 Take advantage of family restrooms or lounge access pre-boarding. Once we're through security, we'll often make a pit stop to change diapers in advance of boarding (there are changing tables in all airplane bathrooms, but they are absurdly cramped). If you have lounge access, this is a great time to take advantage and load up on some snacks for the flight.
Protect your gate-checked items with travel bags. When we arrive at the gate, we immediately head to the desk to get gate check tags for for our stroller and infant car seat from the gate agents. I strongly recommend using protective bags for any gate checked items to ensure your expensive gear is not destroyed. If your child is traveling as a lap infant, I recommend gate checking their car seat and loading them up in a carrier (this one is our favorite) to board the plane. We prefer to gate check so we can use the stroller and car seat while navigating the airport, and we feel somewhat more secure that it will not be lost with gate check vs. checking outside of security. 
Know how to install your car seat on board before you get to the airport. Once we get on board, we immediately install Wyatt's lightweight travel car seat and get situated. It's fairly straightforward to install most car seats on an airplane, but do yourself a favor and watch an instructional video beforehand so you are not scrambling with a line of passengers boarding behind you. Keep in mind that car seats can generally only be setup in window seats, and most will not fit properly rear-facing in an airplane seat (we always install ours forward-facing in flight). 
On arrival
Consider renting a car and have a strategy to get the rental upon arrival. We typically rent a car at our destination so we don't have to install car seats every time we need to go anywhere (particularly convertible car seats for toddlers, which really don't transfer well). I'm a Hertz Gold Member (free to enroll, link here) so I can ensure that our car is ready to be picked up on arrival and we don't have to wait in line – most rental car companies have a comparable program, so check this out in advance. We find it's easiest to have one person go retrieve the car via on-the-ground transport/bus while the other waits with the luggage and kids (note that the person picking up the car must be the one on the reservation!). To make this somewhat feasible, we often use "Smart Carts" to consolidate all of our luggage, and try if at all possible to keep the kids in the stroller or Wyatt on his "kid leash" so the person in the airport can contain both kids and belongings.  
Do a victory lap. YOU MADE IT!!! Now go get a bloody mary (or two) and pat yourself on the back!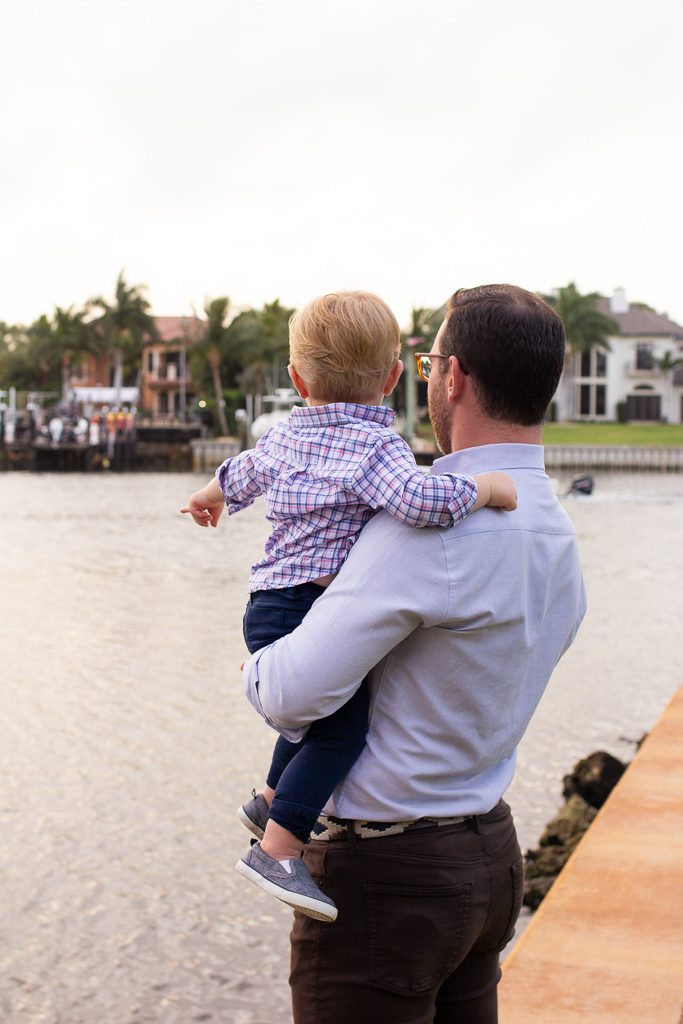 I hope you found this play-by-play helpful, and can learn from some of our mistakes! Any lingering questions I didn't address? Feel free to shoot me a note at hello@chrissyanderson.com or leave a comment below!