In 2011, I moved to London after five years living in New York City. I was very fortunate to have my coworker and close friend accept me as his flatmate in Chelsea, and I landed with a solid handful of acquaintances and friends of friends. Within a few months, I had fully embraced the English lifestyle – in particular the newly awarded 25 days of "holiday", which afforded ample time for ski trips to Lech, weekends in Paris and stopovers in Mallorca. I grew to love spending hours just walking the city and admiring the architecture, the storied old pubs, and the manicured city gardens. Today, I consider myself a proper Anglophile and it is truly one of the cities I love to visit most.
I was lucky enough to meet my wonderful husband, Tom, at the tail end of my time. When I moved to France and then onto grad school in Boston, he continued to live in a lovely Notting Hill flat for 2.5 years, driving many across-the-pond trips and providing a real boost to our frequent flier mileage.  We got engaged in Hyde Park in May of 2014 – Tom's proposal in the Renaissance Garden was followed by a full day of events reliving all of our favorite London adventures.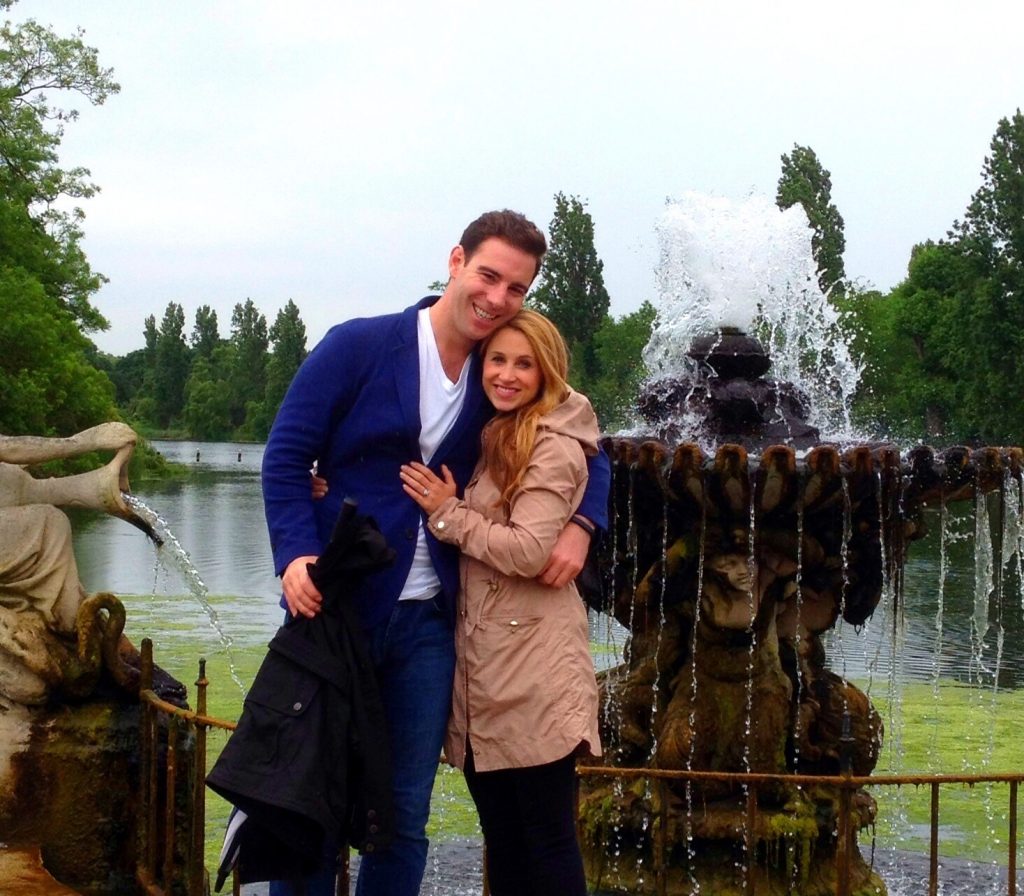 How to get there:
London's international airports are London Gatwick and London Heathrow – either will do the trick, but Heathrow is quite a bit closer to the city if available. It is extremely expensive to take traditional black cabs from the airport to the city, so I would advise a) taking the Heathrow Express (15 min to Paddington station) or Gatwick Express (30 min to Victoria station) from the airport into the city, then taking a taxi/Uber/the tube to your hotel from there. UberX is also always an option and it looks as if the airport fares from Heathrow were somewhat reasonable (fare estimator here).
Where to stay:
I have had the good fortune to stay with friends on most of my visits to London, which is a blessing given how expensive the city is! I love to stay in West London and end up spending the bulk of my time there (apologies East Enders, I am simply not that cool), and the hotel options there are few and far between. For that reason, I definitely recommend considering Airbnb as an option. My favorite neighborhoods are Notting Hill, Sloane Square, South Kensington, and Chelsea.
If you prefer to go the hotel route, I frequently recommend The Gore Hotel, which is reasonable (by London standards) and very well located in South Kensington, right at the Queen's Gate entrance to Hyde Park.
Another hotel we are excited to try on our next visit is The Laslett. There are very few high-end hotel options in Notting Hill, and we love to spend as much time in the old neighborhood as we can. The reviews look excellent and the location is perfect.
If budget is no obstacle, a very swanky hotel to consider is The Chiltern Firehouse. I prefer to stay in West London than in Marleybone, though this is still centrally located. If a stay isn't in the works, I would still recommend stopping in for dinner or drinks (note: they may not let you in for drinks if you don't have a dinner reservation).
What to do:
As I mentioned, I tend to spend the vast majority of my time in West London, given that's where we lived and all of our favorite old haunts are. London is quite a large city, so I have tried to organize my favorites by neighborhood to help you design your visit. Here are the highlights:
Notting Hill. Don't miss the opportunity to stroll along Westbourne Grove and Portobello Road. Westbourne Grove has many high-end boutiques and cafes, while Portobello hosts one of the largest antiques markets (every Saturday).
Shopping
Melissa Obadash: For the high-quality, gorgeous swimwear (by a former swimwear model) and fantastic costume jewelry pieces. She has locations in Notting Hill (48B Ledbury Rd, W11) and Chelsea (93 Walton St, SW3).
Anya Hindmarch (63A Ledbury Rd, W11; other locations here): I have a moderate addiction to all things Anya Hindmarch. My favorite piece is a monogrammed keychain that Tom had made with the date we were engaged – three years later, I still use this everyday to hold my keys and cards. While no piece is inexpensive, they are very high-quality and a fun keepsake from any U.K. visit (have to maximize that VAT refund, right?)
Dining
Knightsbridge/Sloane Square/Belgravia. Hyde Park is definitely not to be missed – I rarely had a weekend during my whole stay in London without a stroll or bike ride through. To get there from Notting Hill, I like to stroll down Kensington Palace Gardens and see the colossal homes, primarily embassies, leading up to Kensington Palace (William and Kate's city residence and Diana's former home). Renting Barclays Bikes (you'll see them everywhere, like CitiBikes) is an efficient way to tour the park for a few quid, and just cruise around – but please be very careful before taking them on the road anywhere outside the park!
Knighstbridge is on the south side of Hyde Park and where you will find outposts of many of the high-end luxury and department stores. If you haven't been, I recommend a stopover at Harrod's, the massive luxury department store – don't miss a visit to the basement-level food hall. From there, I typically head south on Sloane Street (the Madison Ave of London), which leads up to Sloane Square.
Belgravia is a short detour from Sloane Square, and it's worth a stopover on both Motcomb Street and Elizabeth Street, where you'll find many cute boutiques and cafes. A few of my favorite gastropubs (same owners), the Thomas Cubitt (44 Elizabeth Street, SW1) and the The Alfred Tennyson (10 Motcomb Street, SW1 – fka as the Pantechnicon), are in the neighborhood, which are equally good for any meal. I took Tom here the first day we met, and we revisited for brunch the day he proposed (a dead giveaway ! – or maybe it was the fact that he was sweating profusely the whole morning?). 
Soho. While touristy, it's worth it to make the trip to Soho to stroll through Carnaby Street and Greek Street (preferably not on the weekends if you can avoid it). Several of my favorite coffee shops are in the neighborhood – I recommend a stopover at Milk Bar (3 Bateman Street, W1D) or Monmouth Coffee (27 Monmouth Street, WC2). There are some excellent restaurants here as well. Randall and Aubin (16 Berwick Street, W1) is one of my favorites – a super tiny French bistro. Polpetto (11 Berwick Street, W1) is a very cute NYC-style modern Italian right next door. Finally, Dean Street Townhouse (69 Dean Street, W1) is part of the Soho House family and a sold option for any meal.
Primrose Hill. I highly recommend making the trip to this adorable neighborhood in the northern part of the city, which offers amazing views of all of London from the park at the top of the hill (Madonna & Gwenyth are also rumored to have homes here). There are several really quaint pubs just off the high street: The Engineer for traditional pub fare in a cozy atmosphere, and The Landsdowne for excellent thin crust pizzas and other in a family-friendly all-day pub atmosphere. I like to walk back towards central London on the Venice Canals. 
Hampstead Heath. There is no better place to be on a sunny day in London. You'll feel like you stepped out of a Charlotte Brontë novel. The park is absolutely enormous – I can't claim to know it all, but if you're looking for a good starting point, I'd head to the Parliament Hill viewpoint. The Bull & Last is also a perfect stopover for brunch or a late afternoon pint.
Other food & dining ideas:
Indian: London is one of the best places to eat Indian food. One thing that is unique is the abundance of high-end, modern takes on the cuisine – including several Michelin-starred establishments.  These are some of my favorites in that category (but be prepared to pay Michelin-starred prices): Amaya (Belgravia), Cinnamon Club (Westminster, housed in the Old Westminster Library), Gymkhana (Mayfair).
Pubs: The Angelsea Arms is a quaint little English pub (no frills) in South Kensington, which tends to attract a lot of Europeans. I also used to frequent The Phene, which offers outdoor seating when the weather cooperates.
What to see:
As far as site-seeing, these are my favorite highlights:
Westminster Abbey/Big Ben. While the line may be intimidating, I think it's worth the wait to go inside Westminster, if only to admire the site of the Duke and Duchess of Cambridge's nuptials (any many royal unions before!). It appears you can buy tickets in advance here so I would definitely recommend that approach!
Buckingham Palace. A short walk from Westminster (15 min), this is a must see for any first-timer. I suggest walking through the beautiful parks adjacent (St. James Park, Buckingham Palace Gardens, Green Park) on your route.
Museums: Check in advance for any special events at the V&A (which often require tickets). If you're looking for more, the National Portrait Gallery, The Tate Modern, and the British Museum are also worth considering.
What to avoid:
I generally try to avoid the Piccadilly Circus area (reminiscent of Times Square) if at all possible. While the London Eye offers incredible views of the city, I do not recommend going unless you are willing to wait for hours. Similarly, I found the Tower of London to be a complete tourist trap (though I did enjoy seeing the Crown Jewels exhibition), so I would definitely not recommend making the trip across the city to see it. 
Recommended reading:
To get in the mood for your trip, these are some of my favorites:
I Capture the Castle (Dodie Smith, best known as the author of 101 Dalmations).
Notes from a Small Island: Journey Through Britain (Bill Bryson)
Joy in the Morning (or anything by P.G. Wodehouse)