As promised, I want to share more easy favorite meals – especially those using the Instant Pot, our new favorite kitchen gadget. I've loved hearing your feedback about my first Instant Pot recipe (Coq au Vin and Herbed Mashed Potatoes), and I hope this one becomes a favorite too! 
This makes a perfect weeknight meal, but also would be great for entertaining. We stayed with our best friends in Miami for Christmas this year, and our hostess received an Instant Pot as a holiday gift. We decided to break it in and cook this dish for our Christmas Eve dinner to showcase the Instant Pot's prowess, and I think it delivered!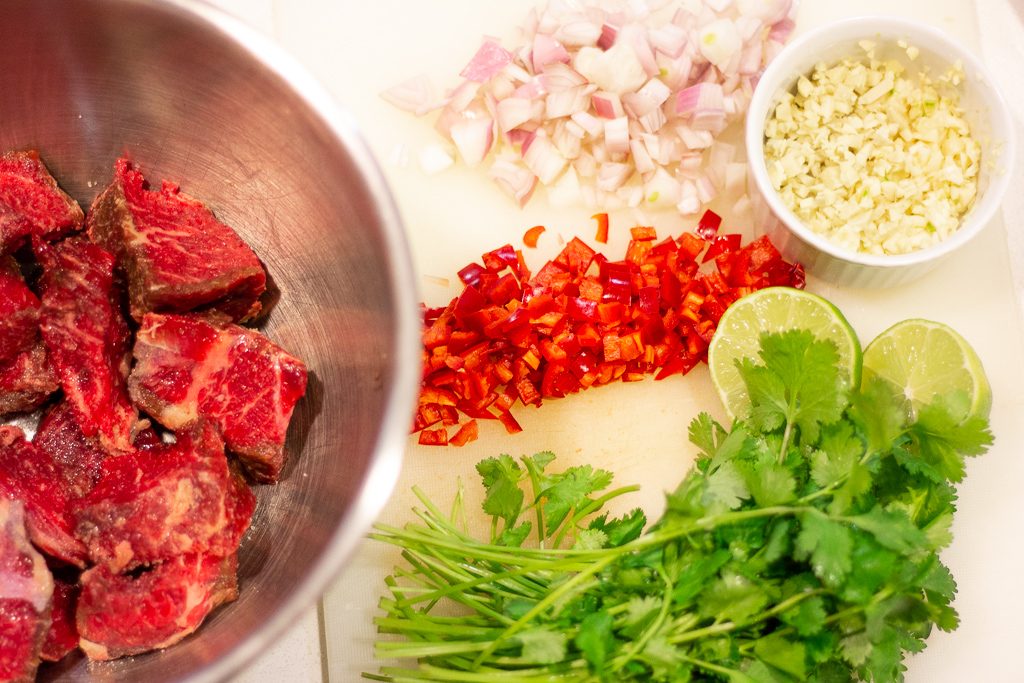 indonesian Short ribs braised in coconut milk
A couple notes:
This recipe is adapted from Bon Appetit (link to original recipe here and pressure cooker adaptation here).

I recommend preparing the short ribs first, and starting the coconut rice when the Instant Pot has finished pressure cooking and is beginning to pressure release.
INGREDIENTS
1/3 cup unsweetened coconut flakes

3 lb. 1½–2″-thick cross-cut bone-in beef short ribs (flanken style; well-marbled works best)

Kosher salt

2 lemongrass stalks

1 shallot, chopped

4 garlic cloves

2 red Fresno chiles or jalapeños, seeds removed

1 1″ piece ginger, peeled, finely grated

1 13.5-oz. can unsweetened coconut milk

1 Tbsp. curry powder

1 cup cilantro leaves with tender stems

2 Tbsp. fresh lime juice

Steamed white rice (for serving)
INSTRUCTIONS
Season beef generously with salt and pepper and set aside.
Turn Instant Pot onto "Saute" on the Medium setting. Add shallot, garlic, ginger and chiles and sauté for a few minutes until the garlic is translucent, stirring constantly to keep the garlic from burning. Add the curry powder and coconut milk and turn off the Instant Pot.
Heat a few tablespoons of olive or peanut oil in a cast-iron skillet (this one is our favorite) over medium-high heat. Working in batches so you don't overcrowd the pan, brown the short ribs on all sides (except the bone side). Put the browned meat directly into the Instant Pot, standing the ribs straight up so the coconut milk covers them halfway or three-quarters.
Once all short ribs are browned and placed in the Instant Pot, close the lid and set to Pressure Cook (High) for 1 hour. 
Meanwhile, place a rack in middle of the oven; preheat to 250°. Spread out coconut flakes on a rimmed baking sheet and toast until golden, 10–15 minutes. Let cool.
When Pressure Cooking is completed, let the Instant Pot naturally release for 10 minutes, then manually release before opening the lid. 
Using tongs, remove the short ribs from the Instant Pot and reserve to the side. The meat should be fork-tender and immediately fall off the bones. Discard the short rib bones and the lemongrass stalks. I also discarded any pieces of fat as I shredded the meat.
Once the meat is removed, skim the liquid with a ladel or large spoon to remove 1/2 of the separated fat. Turn the Instant Pot back to "Saute" and let the liquid come to a boil. Let the liquid boil for about 10-15 min until reduced by two-thirds.
Toss toasted coconut, cilantro, lime juice, and a pinch of salt in a small bowl to make a gremolata topping.
Once complete, return the shredded meat to the sauce to serve. Top short ribs with gremolata and serve with coconut cilantro rice (recipe below).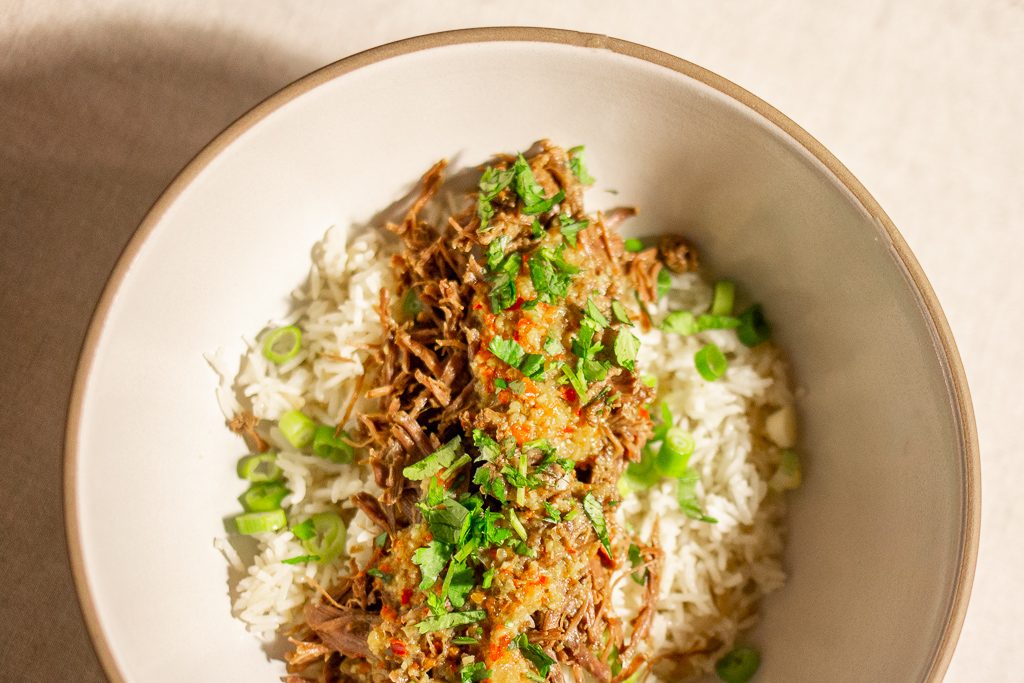 coconut Cilantro rice
Note: This recipe can be made on the stovetop or in the Instant Pot. If you're making the short ribs in the Instant Pot, you'll likely want to prepare this on the stovetop since your Instant Pot will be occupied. I've included both versions here.
2 garlic cloves, diced
1 1-inch piece of ginger, diced
2 cups jasmine or basmati rice
1 3/4 cups water
1 3/4 tsps salt
1 can coconut milk (I prefer full-fat organic, but you can use light as well)
Sliced green onions
Chopped cilantro
INSTRUCTIONS
Rinse the rice under cool water until it runs clear.
Heat 1 tablespoon of olive oil over medium heat. Add garlic and ginger and saute for 1-2 min until garlic is translucent. Stir regularly to ensure garlic does not burn.
Add rice and stir until coated and lightly toasted. Add salt.
Pour in the coconut milk and water and bring to a boil. Reduce to a simmer, cover and cook 15 minutes.
Fluff rice with a fork. Top with sliced green onions and chopped cilantro.
Bon appétit! I hope you'll give this a try and let me know what you think (send a pic to @chrissyeanderson if you do!). I'll be sharing more Instant Pot recipe favorites and easy weeknight meals soon!