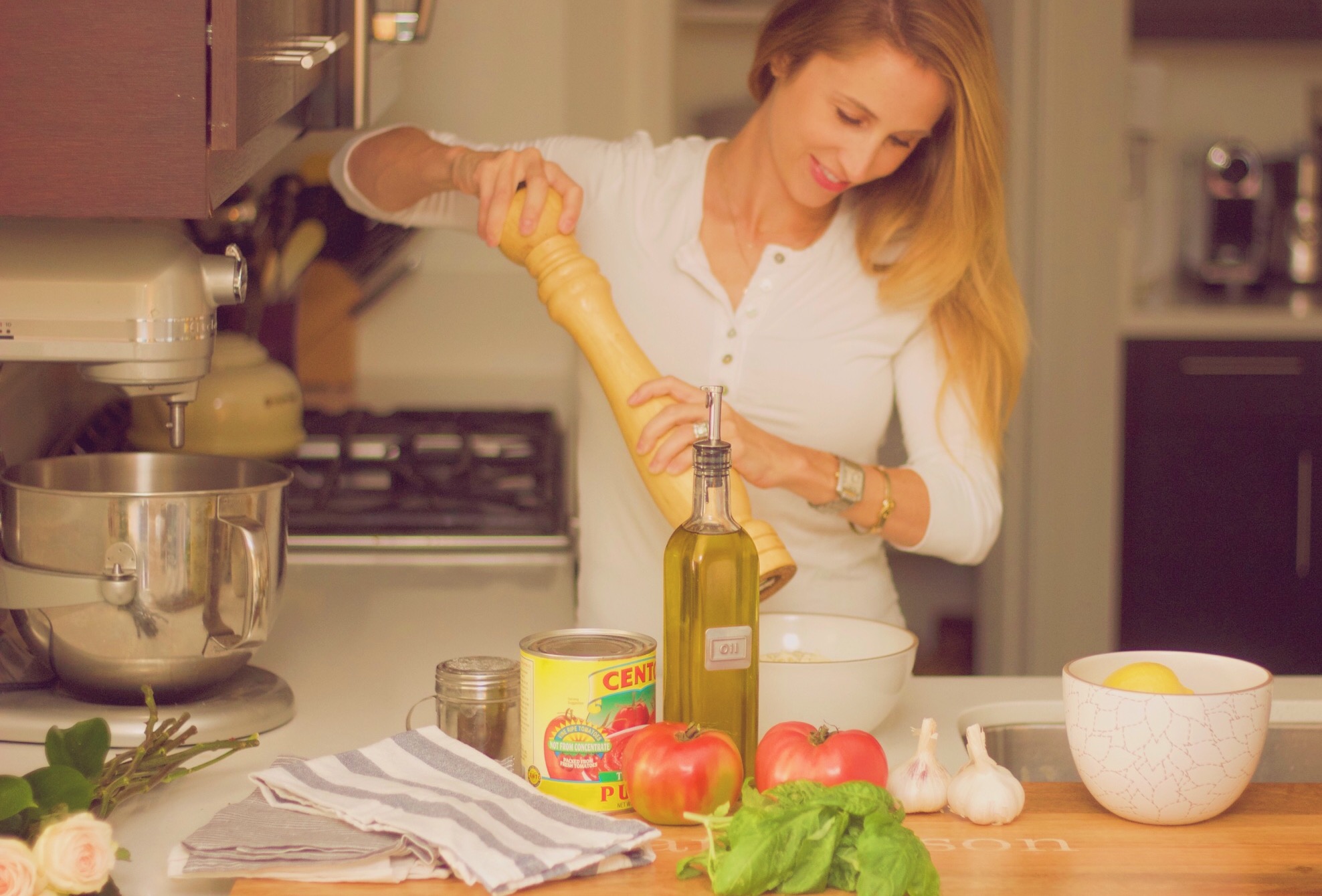 In spite of some professional culinary training and having a world class French chef as a mother (she ran a catering business, Picnics by Yvonne, while I was growing up), I am still best known for my salads. Sigh. With that said, I spare no attention to detail when it comes to selecting the best kitchen products to prepare said everyday meals. Tom and I try to cook at home 4-5 nights a week, both for health and expense reasons, and we have a few inexpensive go-to kitchen items that really make all the difference. I talked here about my favorite high-end gadgets that are fantastic investment pieces (perfect for the wedding registry), but these simple tools are just as important to our daily routine. Everything on this list is something we use daily in our kitchen, and is under $30!
Silpat Silicone Baking Mats are often recommended for making cookies, but I find they are an absolute necessity for baking anything. We use them inside of our sheet pans for all baking needs (most often, roasting veggies), and they keep food from sticking directly to the baking sheet while still allowing whatever you are cooking to get crispy and nicely roasted. As an added benefit, they make cleanup much simpler as nothing sticks to them – giving your sheet pans a much longer shelf life.
IKEA Legitim Chopping Boards Every time we go to IKEA (admittedly, I send Tom on these excursions whenever possible), we load up on these Legitim chopping boards ($1.49/each). The price point can't be beat, and they are a great size (about a sheet of paper) to stack up and tuck inside your drawers and throw in the dishwasher. "Pro" tip: wet and ring out a paper towel or dish cloth and lay it flat on your counter before putting the cutting board on top – this will keep the board from sliding around the counter and create a flat, stable surface for your chopping. Chefs everywhere do this!
Silicone lemon squeezer We use citrus in so many of our recipes, and I find chasing lemon seeds around in your dish is just not worth the effort. I don't have the counter space or time to use a traditional electric juicer, which is why I love this handy squeezer. We use it all the time for making salad dressings and seasoning fish or veggies. It is so easy to use and clean – just chop the lemon in half, drop the halves in, squeeze all the juice out, and discard the seeds left behind.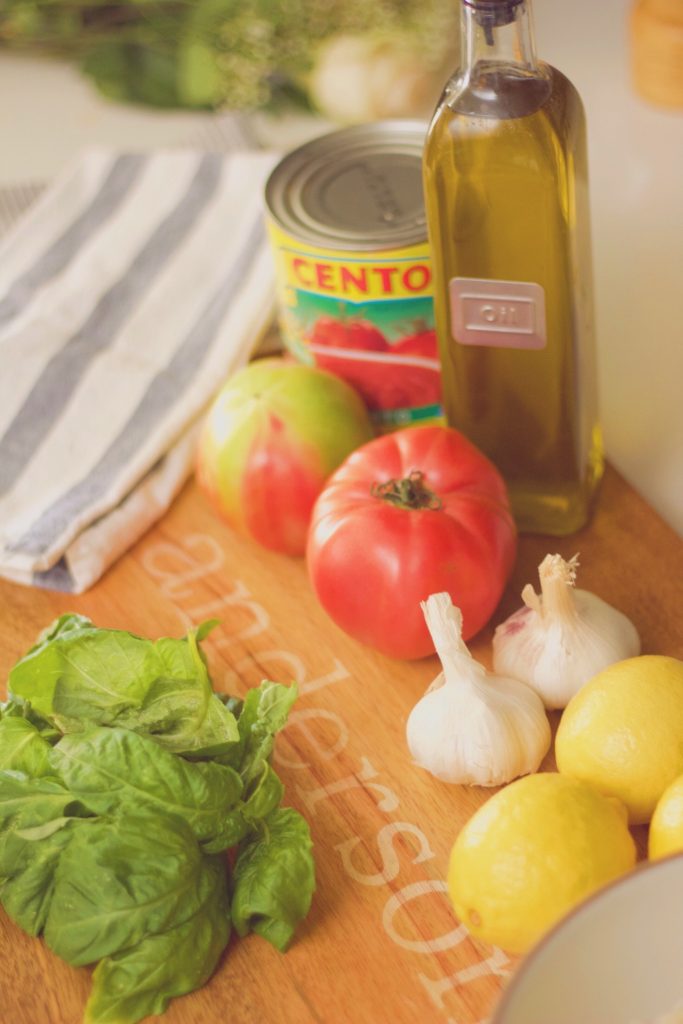 Crate & Barrel Olive Oil Pourer This is one of my most recent finds, and I am just over the moon as it allows us to purchase the industrial size olive oil (significant savings here) and simply refill using a funnel. It also dispenses just the right amount of oil in a gentle stream, and looks much cuter than having a store-bought olive oil on the countertop at all times!
Stainless Steel Dredge Shakers My mom gifted me one of these for seasoning (sea salt is my choice) about 10 years ago, and I think I've used it every day since. You'll see these all over professional kitchens – for some reason, they just make it easier to season things well and evenly without worrying about a huge quantity of salt dumping out of the store-bought container. We have ours next to our giant 15″ pepper mill, which just makes every meal a bit more fun (unfortunately, these are not <$30 – but one will last a lifetime!). Freshly ground salt and pepper are essential in my opinion!
Von Chef Nesting Bowls were a welcome addition after we broke our traditional glass set in our recent move. The rubber bottom helps the bowls stay put while mixing, interior markers make measuring easy, and the included lids are perfect for storing prepped goods. The grater attachment is also a huge win, allowing you to grate directly over the bowl without any mess.
Cork Pops Wine Opener This tiny device always gets the shock and awe factor from guests when they see how quickly and easily it will cleanly remove your wine corks with no cork residue. I am so surprised these aren't in wider use, as they are much more effective than the more expensive versions we've tried, and far easier than a traditional opener. Besides, where's the fun in preparing the meal if you're not drinking wine while doing it?
OXO Good Grips Complete Grate & Slice Set I recently discovered this set and I am totally in love. It comes neatly packaged with 4 different grater/slicer disks that can be easily inserted into the square lid for use, creating a perfect receptacle for whatever you are grating/slicing (rather than spraying all over your countertop and requiring a serious vaccuum job after). The small package is also perfect for storing in crowded kitchens.
OXO Fish Spatula I purchased this during cooking school when I saw my Japanese classmates using similar models to adeptly flip their filets without any breakage. The slim blade and wide base is just right for fish (salmon is our go-to), and a huge upgrade vs. using a traditional spatula. I highly recommend for those of you who cook fish often.
Ball Mason Jars I'm certainly not the first person to espouse the virtues of the ball jar, but I felt I would be remiss to exclude them as we use them so frequently around our kitchen. We use the quart size for storing all of our pantry goods – flours, sugars, grains, pastas, Nespresso capsules – and the pint size as everyday drinking glasses. As you may have guessed, the royal purple jars are my favorite!
I'd love to hear what tools you rely on! Questions I can help with? Share in the comments section below.