I'm embarrassed to admit how long it took me to choose a convertible car seat (a recurring theme on this blog). Given convertible car seats are meant to take your child from baby to toddler – all the way up to 65 lbs in some cases – this felt like a particularly weighty decision (no pun intended). I went so deep into the far corners of the internet and at-home trials that I now feel I can speak with some authority on this particular product decision.
That said, the bad news is that unfortunately there is not a one-size-fits-all solution here (similar to the baby monitor). The right car seat for you depends on a number of factors, including the size of your child and your vehicle. Wyatt is a big, big boy – 99th percentile height and weight – and therefore outgrew his infant car seat far sooner than most baby friends. Most infants can stay into their infant car seat well into their baby's first year, but in Wyatt's case I was ready to transition around 8 months (in part so I didn't throw out my back hauling his infant seat in and out of the car).
This post ended up being quite a bit longer than I intended, so I've structured it as a bit of a Q&A to try organize:
Why do I need an infant car seat and a convertible car seat? 
It's possible to use a convertible car seat from birth (some models offer infant inserts), however I recommend you start with an infant car seat and make the transition at a later point to a convertible for the following reasons:
Infant car seats are relatively lightweight (our UppaBaby Mesa is 9.9 lbs) and offer a LOT of convenience, in particular the ability to transfer a sleeping baby seamlessly from the car to the stroller on-the-go. The two convertible seats I consider here (Nuna Rava and Maxi Cosi Pria 85 Max) are very heavy at 29 lbs and 23 lbs, respectively, meaning they are

not

intended for regular installation/un-installation.
Infant car seats also are great for travel, so you don't have to lug a separate stroller and a car seat through the airport.
When you need to transition to a convertible seat depends on the height and weight limits of your infant seat – check the side panel on your infant seat and you should see limits clearly displayed there. You may find (as in our case) that you're ready to transition sooner than you exceed these limits.
What do I need to know about convertible car seat installation?
According to the NHTSA, your child should ride rear-facing for at least 2 years or when the height/weight limits for rear-facing are exceeded – as long as possible as this is the safest position for baby.
Note: Rear-facing installation takes up a LOT of room! I drive a mid-size SUV (an Audi Q5 I purchased recently through Shift – a great used car buying experience in case you are in the market!), which seemed enormous pre-baby and now feels cozy. I found that many seats when installed rear-facing rendered my passenger seat unusable – not a viable solution given this seat would be permanently installed rear-facing for more than a year until Wyatt is 2.
Convertible car seats can be installed either with LATCH connectors (up to a weight limit specified on each seat – most around 40 lbs) or with a seatbelt installation.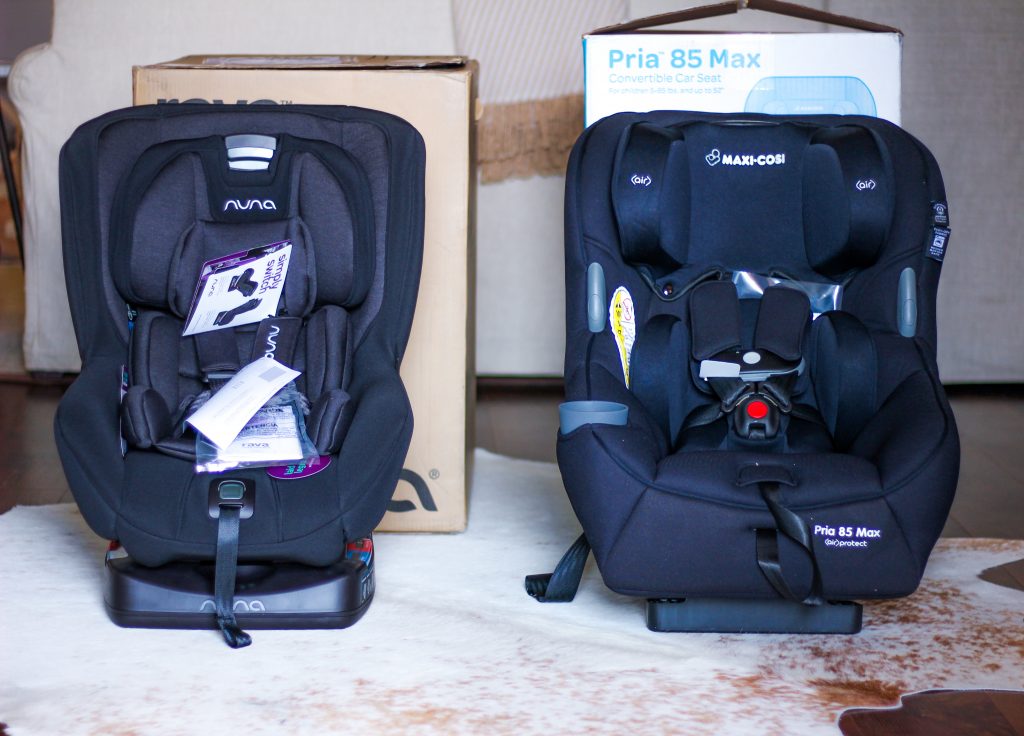 What car seat(s) do you recommend for everyday use?
When it came time to transition, I realized we actually needed 3 (!) convertible car seats (1 for my car, one for Tom's, one for our nanny's) to replace the infant car seat. As I mention above, given the weight and installation requirements, generally speaking you do not want to be moving these around frequently if you can avoid it.
For my car and Tom's, I wanted seats that met the following criteria: well-rated for safety, easy to install, rear-facing as long as possible (the safest position for baby), passenger seat still functional while installed rear-facing, easy to clean (removable cover), easy to buckle (no-tangle straps), aesthetically pleasing. I mean, is that so much to ask?
Based on these criteria, I narrowed the field to 3 contenders:
Nuna Rava: The Nuna is just so sleek. The fabric is gorgeous and highly durable (after 6 months I don't see any signs of pilling). But the main reason we opted for the Nuna over the Maxi-Cosi was the vehicle fit – when installed rear-facing, my passenger seat still had plenty of leg room. (Buying note: buy this one through Neiman Marcus or Bloomingdales when they are having a "spend $X get $Y back" sale.)
Maxi Cosi Pria 85 Max: This seat is so cushy and comfortable – it really feels like it would be a great place to hang out. The seat is also extremely wide, which would be a great option for a larger child. Maxi-Cosi offers many models which are very, very similar (the Pria 70, Vello 65/70). The reason to choose the 85 Max over the 85 standard model is for the superior buckle – the "Max" design is excellent (looked very unlikely to tangle and impossible for a kid to unlatch), while the other models are more basic. (Note: buy this one through Buy Buy Baby and use a 20% off coupon.)
Clek Fllo: This seat is recommended because of its narrow footprint, meaning you can fit 3-across (oh what a scary idea!). I also found the Fllo was obstructive when placed rear facing, and I felt its seat was simply too narrow to grow with Wyatt, so we counted this one out.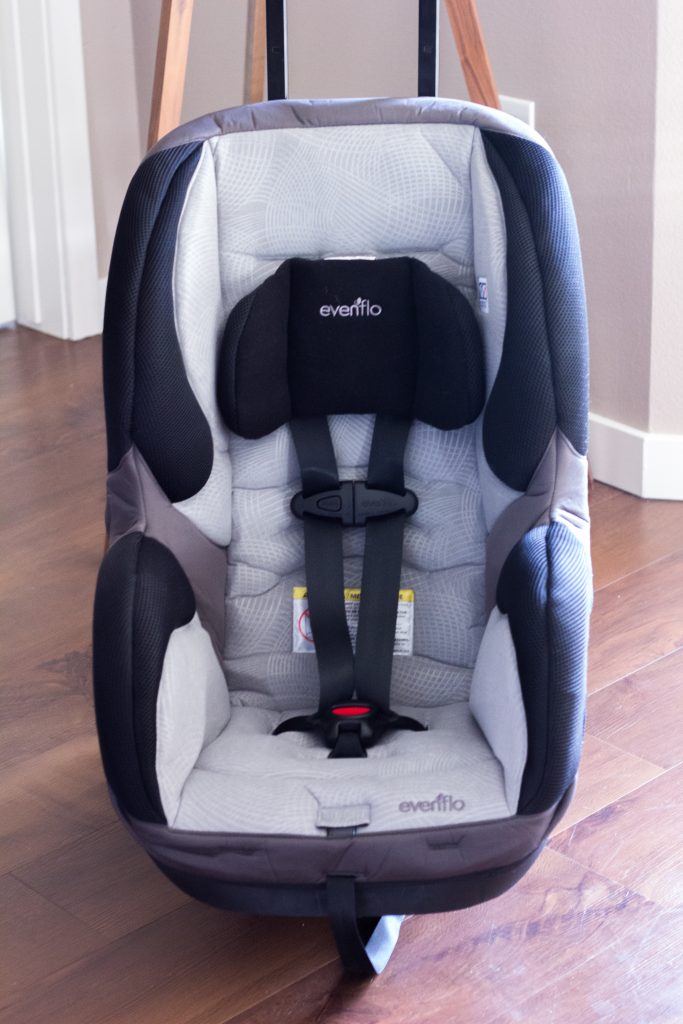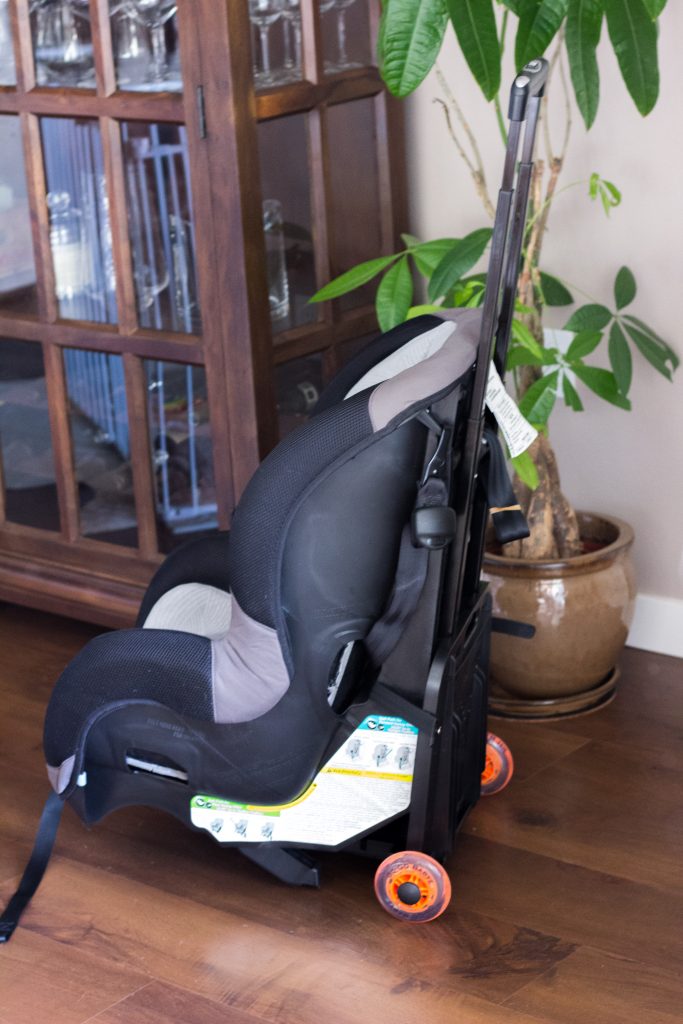 Which car seat do you recommend for travel?
As mentioned above, we needed 3 convertible car seats, as our nanny transports our son by car every day. If possible, I wanted to ensure that the car seat we purchased for our nanny could also double for airplane travel (key criteria: safe, lightweight, easy to install), to avoid buying a 4th (!) car seat for this purpose. This was by far the hardest part of my search.
I finally landed on this site which provides a sortable table for key convertible car seat criteria (eg width, total weight, rear-facing max weight). I sorted by total weight and found that the Evenflo Sureride 65 DLX offered the best balance of a) lightweight (just 11.1 lbs) and b) extended forward-facing capacity (up to 65 lbs, vs. similar-weight models which only extended to 40 lbs). My brother-in-law, also a discerning consumer and subscriber of Consumer Reports, has been using this seat for about 6 months and also recommended it as a simple, straightforward option for travel or occasional use.
What accessories do I need for my car seat?
When we travel with our EvenFlo Sureride 65 DLX car seat, we hook it up to this Go-Go Babyz Travelmate travel cart to easily navigate the airport. We often throw our shoulder or garment bags on top and it doubles as a luggage cart. If we have to gate check the car seat (when we don't have an airplane seat for Wyatt, typically for short flights), we store it in this ZOHZO Car Seat Travel Backpack. I always recommend ensuring your gate checked items (strollers, car seats) are in protective bags – I always find our goods take a real beating in flight.
In my car and Tom's, we protect our leather seats underneath the Nuna Rava with these Brica Car Seat Guardian Car Seat Protectors (sold in black, grey and tan depending on the retailer, if you want to match to your seats).
What other resources should I look at while car seat shopping?
Car Seat for the Littles: the best site I found that breaks down the (huge) universe of car seats and provides excellent individual reviews on every seat on the market. Regardless of the seat you decide on, I recommend reading about it on this site first.
The Car Seat Lady is also an excellent resource for product reviews and instructional videos. I always watch her YouTube installation videos on the go when I'm trying to get our seats into new vehicles.
Alright, I'm through! Hopefully this peek into my many-month search for the perfect car seats will help you narrow down the universe. Good luck!